The World is your classroom - Share your experience on #DeakinAbroad
You can now share your international experience on the #DeakinAbroad website.
Deakin University offers you the opportunity to participate in different international programs that will give a boost to your employability and will make for a unique and unforgettable experience. Whether you are an incoming international student or a local student going on an exchange program or on a Faculty Study Tour, we invite you to share your experience on the new #DeakinAbroad website.
How does it work?
When posting about your international experience on social media, simply add the hashtag #DeakinAbroad. Add photos and videos to your posts and let the entire world know how it feels to be a true citizen of the world!
You can see what students currently involved in an international program are experience on the #DeakinAbroad website.
Need a boarding pass?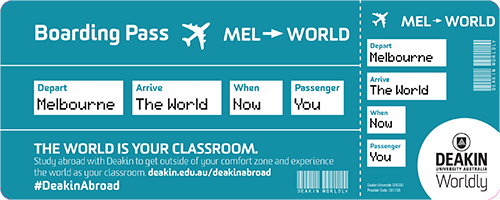 Click on the image above to download your boarding pass and start exploring the world today!
International programs useful links
Interested in international programs? You can visit the following websites to find out more:
Page custodian: Deakin International Last updated: