Bachelor of Health Sciences at Dandenong
Offered at: Deakin Learning Centre in Dandenong.
Duration: 3 years of full-time study. Part-time study is also available.
Deakin Code: H300D
Course outline
The Bachelor of Health Sciences consists of a total of 24 credit points, of which 16 are specific to health. Within these 16 units you must complete two core units, HBS107 Understanding Health and HBS108 Health Information and Data. You will also need to complete two health-related major sequences such as:
Health Promotion
This major sequence will equip you with a sound knowledge of the causes of health and illness and provide you with effective strategies to help prevent illness. You will also gain practical skills in health education and communication, health planning and management, and promoting the health of populations and communities.
Family, Society and Health
This major sequence focuses on the household and family as a setting for public health. You will explore issues facing households and families, including the link between healthy human development and healthy households, economic wellbeing and health, and the need for supportive environments. It is ideal if you wish to work in welfare, health promotion, or with organisations offering support services and resources for families.
People, Society and Disability
Completion of this major enables you to expand your job opportunities by being better informed about the positive options and techniques that are available to assist and support people with a disability. It is ideal if you wish to work in welfare, or with organisations offering disability support services.
To add flexibility and diversity to your degree you also have the opportunity to select a number of elective units of study from any faculty within the University (subject to off-campus/online availability). Possible study areas from the Faculty of Health include exercise science, nutrition and psychology.
Bachelor of Health Science at Dandenong flyer with course structure.
For further information about this course, please visit deakin.edu.au/study-at-deakin.
---
Why study this course?
You can get a Deakin degree by studying in Dandenong.
You will have access to computers and the Deakin Library online.
You will have access to academic support, guidance and advice through the newly developed Deakin Learning Centre.
You will be able to take advantage of the flexible course structure to tailor your degree towards your personal interests and career aspirations.
You can concentrate your studies on at least two health-related areas while exploring complementary areas of interest.
You can add diversity to your degree by undertaking elective units offered by other faculties within the University.
You may have the opportunity to apply your skills and gain valuable experience in work placements.
Deakin's academic staff members are well connected with the health industry and employers and have strong partnerships with the Department of Human Services. These partnerships help to ensure the course content remains relevant to the changing needs of the workplace.
Our staff members are involved in a range of research
activities that both reflect and inform the teaching program.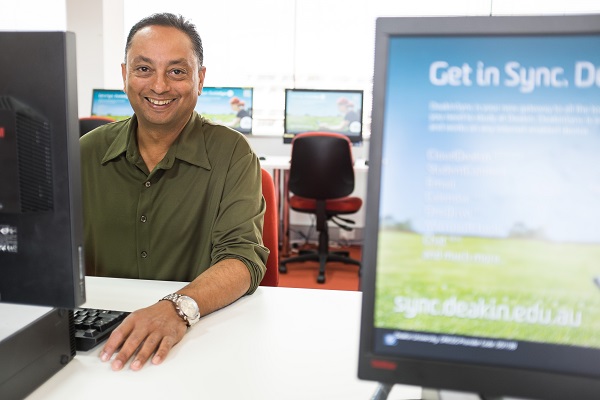 Bachelor of Health Sciences student, Allan Davis

---
What you will get out of it
At the end of the course you will:
have a unique qualification specific to your areas of personal interest
have knowledge and skills in a wide range of health areas
have practical skills gained through work placements (depending on the electives you choose)
be well prepared to undertake a wide variety of employment options (depending on the major sequences and electives you choose)
be well prepared to undertake a range of specialist postgraduate courses.
---
Career opportunities
Employment opportunities in the health sector are strong and continue to grow steadily as public health issues such as obesity, heart disease and diabetes increasingly affect health care systems in Australia and globally.
Career outcomes for graduates of the Bachelor of Health Sciences are diverse. Deakin graduates have found employment in a wide range of health-related roles in the public and private sector in health agencies, the fitness and sports industries, just to name a few.
Recent Deakin health sciences graduates have reported they are working in a range of roles such as:
family and community support worker;
health educator;
health promotion officer;
health and sport marketing officer;
project officer;
public relations officer.
While salaries depend on the level of experience and the particular role or work area chosen, they generally range between $40 000 and $80 000 plus.
---
Course duration and location
This course can be completed in three years of full-time study. Part-time study options are also available.
The Deakin Learning Centre is located at Level 3, 237 Lonsdale Street in Dandenong.
---
Entry requirements
Year 12 applicants
Successful completion of VCE (or equivalent) with a minimum ATAR of 50 and a study score of 30 in English (ESL) or 25 in any other English. Applicants will also need to submit a personal statement of no more than 500 words (please refer to the application form).
Completion of the Senior VCAL Learning Program.
Non Year-12 applicants
A personal statement of no more than 500 words (please refer to application form).
Any previous study and work experience will also be considered.
Shortlisted applicants will be invited to attend a 20 minute interview. Some applicants may also need to complete a written piece of work as part of the interview process. Consideration will be given to personal interests in the Dandenong community (including evidence of community involvement), interest in working with people and personal character references.
---
How to apply
All applicants are required to complete a hard-copy application form (PDF 206 KB). If you would like a copy of the application form to be mailed to you, please call 9246 8995.
Once completed, return your application form, personal statement and supporting documentation to:
Deakin Learning Centre
Level 3, 237 Lonsdale Street
Dandenong VIC 3175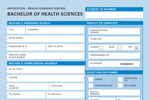 PDF (PDF, 198.0 KB)
---
Important dates
| | Trimester 1, 2015 |
| --- | --- |
| Applications close | 22 February 2015 |
| Orientation | 2 - 3 March 2015 |
| Trimester commences | 9 March 2015 |
---
Teaching methods
The Bachelor of Health Sciences is delivered online with face-to-face support from staff. Students have 24 hour access to their study materials online. Deakin's online technologies and interactive teaching methods are reinforced by our award-winning library services.
Deakin staff members are dedicated to helping students succeed in their studies, and are available at this community-based facility throughout the academic year. Also, organisations in the local community are involved in a seminar program at the Deakin Learning Centre to assist students during their studies and provide direction regarding future employment opportunities.
---
Credit for Prior Learning
Deakin understands that many of the students who study with us come from backgrounds other than secondary school, such as TAFE, other universities and the workforce. As such, Deakin aims to provide as much credit as possible for approved prior study or informal learning that exceeds the normal entrance requirements for the course. Students are required to complete a minimum of one third of the course at Deakin University. Credit for Prior Learning will be determined on a case-by-case basis. Please contact Health - Student and Academic Services for more information about Credit for Prior Learning and how to apply.
---
Course fees
The University offers Commonwealth Supported Places (CSP) for this course. A Commonwealth Supported Place is one where the government pays a proportion of the study fees and the student finds the balance through the Higher Education Contribution Scheme-Higher Education Loan Program (HECS-HELP) - a loan scheme to help students pay for tuition costs. Repayments are made through the Australian taxation system once your annual income exceeds the minimum threshold for repayment. Visit the Fees website and www.studyassist.gov.au for more information.
---
More information
For more information, please contact:

Mark Kennedy
Phone 03 9246 8995
mark.kennedy@deakin.edu.au
You may also wish to visit the Deakin Learning Centre in person
Monday to Friday, 9am - 5pm
Level 3, 237 Lonsdale Street
Dandenong
Page custodian: Marketing Division Last updated: