Bachelor of Information Systems at Dandenong
Offered at: Deakin Learning Hub in Dandenong.
Duration: 3 years of full-time study. Part-time study is also available.
Deakin Code: M340D
Course outline
The Bachelor of Information Systems aims to produce job-ready information systems professionals. The course provides a broad understanding of all aspects of information systems, a significant component of work integrated learning and an 'Industry on campus' program to ensure graduates get their careers off to a great start. This program aims to ensure that every student has multiple touch points with employers of information systems graduates and information systems professionals every trimester during their degree to help students identify potential employers and understand the career outcomes available to them.
Download a course information flyer (PDF 295KB)
For further information about this course, please visit deakin.edu.au/study-at-deakin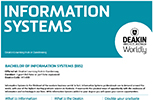 PDF
295 KB
---
Career opportunities
Information Systems is a diverse field which focuses on how to create, develop and maintain a link between information and communications technology and business. Information Systems are embedded in most careers across all industries - jobs across every industry! The BIS prepares students for graduate roles across every industry, across all continents.
Graduates may find work as an IT professional, business systems programmer, member of implementation teams, business analyst or as an advisor. Sample job titles: Business analyst, System analyst, IT consultant, Project manager and Chief Information Officer (CIO).
---
Course duration and location
This course can be completed in three years of full-time study. Part-time study options are also available.
The Deakin Learning Hub is located at Level 3, 237 Lonsdale Street in Dandenong.
---
Entry requirements
Year 12
Successful completion of VCE
30 in English (ESL), or 25 in any other English.
Must have an ATAR of 50 or over, to be considered.
Non Year 12
Deakin University offers admission to undergraduate courses through a number of Admission categories. In all categories of admission, selection is based primarily on academic merit as indicated by an applicants previous academic record.
---
How to apply
All applicants are required to complete a hard-copy application form (PDF 150 KB). If you would like a copy of the application form to be mailed to you, please call 9246 8995.
Once completed, return your application form, personal statement and supporting documentation to:
Deakin Learning Hub
Level 3, 237 Lonsdale Street
Dandenong VIC 3175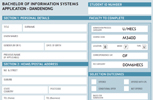 PDF
150 KB
---
Important dates
| | Trimester 1, 2014 | Trimester 2, 2014 |
| --- | --- | --- |
| Applications close | 23 February 2014 | 29 June 2014 |
| Orientation | 3 - 4 March 2014 | 7 - 8 July 2014 |
| Trimester commences | 10 March 2014 | 14 July 2014 |
---
More information
For more information, please contact:
Mark Kennedy
Phone 03 9246 8995
mark.kennedy@deakin.edu.au
You may also wish to visit the Deakin Learning Hub in person
Monday to Friday, 9am - 5pm
Level 3, 237 Lonsdale Street,
Dandenong
Alternatively, you can contact the

Faculty of Business and Law
Phone: 03 9244 6555
enqblm@deakin.edu.au
While the information provided here was correct at the time of publication, Deakin University reserves the right to alter, amend or delete details of course and unit offerings. Published August 2013.
Page custodian: Marketing Last updated: