Bachelor of Psychological Science at Dandenong
Offered at: Deakin Learning Hub in Dandenong.
Duration: 3 years of full-time study. Part-time study is also available.
Deakin Code: H344D
Course outline
Psychology is concerned with understanding human personality, behaviour, emotion, underlying mental processes and the factors which lead people to differ in the way they think and behave. In the Bachelor of Applied Science (Psychology) you will be exposed to an integrated approach to psychology; which covers areas including
behavioural and clinical neuroscience
child and adolescent psychology
relationships and the psychology of groups
personality
cognitive psychology
forensic psychology
psychopathology
Download a course information flyer (PDF 586KB)
For further information about this course, please visit deakin.edu.au/study-at-deakin
PDF
586 KB
---
Career opportunities
Studying Psychology at Deakin gives you entry into one of the fastest growing and most diverse professional fields in Australia and around the world. Whether you complete an undergraduate degree in Psychology or go on to postgraduate study you will have developed the knowledge and skills that make you highly employable across an array of stimulating employment settings. Many psychologists work in health and human services, in clinics and private practice, in schools and education settings, and in a variety of businesses delivering employee assistance programs or training. Increasingly, opportunities are available in commerce and industry such as human resources, business and management.
Professional recognition
The Bachelor of Psychological Science provides you with a three-year psychology sequence that is accredited by the Australian Psychology Accreditation Council and recognised by the Psychology Board of Australia.
Salaries
First year graduate salaries range between $45 000 and $80 000 plus, depending on your experience and chosen work area.
---
Course duration and location
This course can be completed in three years of full-time study. Part-time study options are also available.
The Deakin Learning Hub is located at Level 3, 237 Lonsdale Street in Dandenong.
---
Entry requirements
Year 12
Successful completion of VCE
30 in English (ESL), or 25 in any other English.
Must have an ATAR of 50 or over, to be considered.
Non Year 12
Deakin University offers admission to undergraduate courses through a number of Admission categories. In all categories of admission, selection is based primarily on academic merit as indicated by an applicant's previous academic record.
---
How to apply
All applicants are required to complete a hard-copy application form (PDF 64KB). If you would like a copy of the application form to be mailed to you, please call 9246 8995.
Once completed, return your application form, personal statement and supporting documentation to:
Deakin Learning Hub
Level 3, 237 Lonsdale Street
Dandenong VIC 3175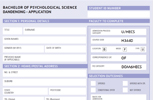 PDF
64 KB
---
Important dates
| | Trimester 1, 2014 | Trimester 2, 2014 |
| --- | --- | --- |
| Applications close | 23 February 2014 | 29 June 2014 |
| Orientation | 3 - 4 March 2014 | 7 - 8 July 2014 |
| Trimester commences | 10 March 2014 | 14 July 2014 |
---
More information
For more information, please contact:
Mark Kennedy
Phone 03 9246 8995
mark.kennedy@deakin.edu.au
You may also wish to visit the Deakin Learning Hub in person (Monday to Friday, 9am - 5pm; Level 3, 237 Lonsdale Street, Dandenong).
Alternatively, you can contact the Health - Student and Academic Services office as detailed below.
Health - Student and Academic Services
Phone 03 9251 7777
health-enquire@deakin.edu.au
deakin.edu.au/study-at-deakin
While the information provided here was correct at the time of publication, Deakin University reserves the right to alter, amend or delete details of course and unit offerings. Published August 2013.