Deakin at Hume Global Learning Centre – Craigieburn
Situated in the Hume Global Learning Centre – Craigieburn, Deakin invites you to study locally. The Centre is located at 75-95 Central Park Avenue in Craigieburn.
School Leaver or mature aged and wanting study options in 2015? Deakin is offering three courses in psychology, education and a pathway program to get you headed towards a university degree. With our partner Kangan Institute of TAFE, Deakin is working within the City of Hume to provide higher education opportunities for the community and the chance to learn where you live.
Deakin's Learning Centres are media-rich and utilise video conferencing, to create personalised and interactive learning wherever students are located.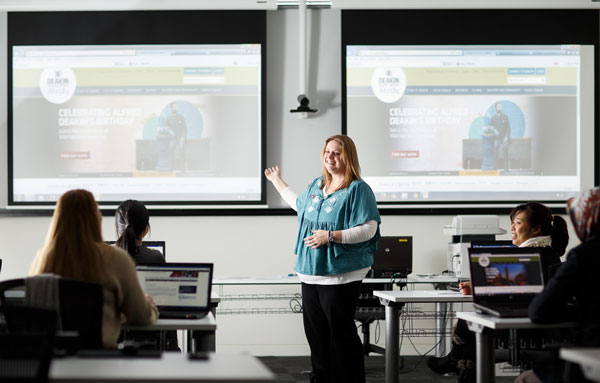 Hume – a vibrant city of great contrasts
Taking pride in its rich heritage and history, Hume boasts wonderful natural features and a culturally rich community. Hume is one of the fastest growing municipalities in Australia and home to the internationally acclaimed Melbourne Airport, leading manufacturing and technology industries, and award winning wineries.
Hume Global Learning Centre – Craigieburn
The contemporary building, adjacent to Craigieburn Central, features iconic architectural design with facilities including IT training rooms and meeting rooms, as well as a large multipurpose room equipped with the latest audio-visual presentation equipment.
In addition to meeting and event space, the stunning Craigieburn Library houses a collection of more than 60 000 items. Offering all the benefits of a traditional public library, the facility incorporates the best features of modern learning centres, including a children's storytelling area and dedicated youth space.
The onsite cafe provides the perfect spot for meetings, study and catch-ups with friends. Occasional care for children is available to ensure all members of the community can access the array of learning opportunities offered by the centre.
Located on the corner of Central Park Avenue and Aitken Boulevard, the centre is accessible by car, train and bus.
Car – Free parking is available in the car park directly behind the centre.
Train – Craigieburn train station is located just over three kilometres from the centre with direct connections to and from the Melbourne CBD.
Bus – Bus number 529 provides direct connection from Craigieburn train station to Central Park Avenue. Get off at Central Park Avenue for a five minute walk to the Hume Global Learning Centre – Craigieburn.
Ask for the Hume Global Learning Centre – Craigieburn Transport.
Visit the Hume Multiversity initiative or phone 9356 6999 for more information about the Hume Global Learning Centre or the Hume Multiversity initiative.
Page custodian: Marketing Division Last updated: