South West TAFE
Deakin now offers
guaranteed entry pathways
for students at South West TAFE.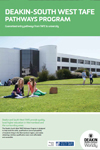 Download the Deakin-South West TAFE
Pathways Program Flyer
(PDF, 2.3 MB)
Whether you are just starting out at South West TAFE or have completed your Diploma / Advanced Diploma, Deakin will provide you with the tools and advice to help you transfer to Deakin when you are ready.
South West TAFE provides pathway students with the opportunity to enter university with credit for prior learning of up to one and a half years towards a Bachelor's degree.
Many students complete the first part of the program at South West TAFE, then transfer to Deakin University to complete their degree. Students are required to meet minimum entry requirements and, in some cases, may complete a Bachelor's degree with a further two years study.
This program offers an ideal alternative pathway for students who:
Are seeking a suitable supportive learning environment or those who prefer support for their transition into life and study in Australia;
Want the benefits of a vocational TAFE qualification with a university degree;
May have been unsuccessful in obtaining direct entry into university; or
Are seeking a competitively priced first year of study.
For further information, please contact pathways@deakin.edu.au.
To find out what credit you may be eligible for, search our Credit for Prior Learning Database below and learn what credit you can receive from your qualifications at South West TAFE.
If you can't find your previous institution or course in the database, you may still be eligible for credit. Deakin welcomes applications for credit from all TAFE courses. You can also apply for CPL if you have significant work experience in your chosen area of study.
Page custodian: Division of Student Administration Last updated: