Werribee Learning Centre
What is the Werribee Learning Centre?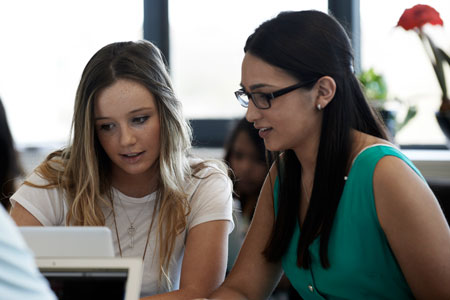 The Werribee Learning Centre is in Wyndham in the south west of Melbourne. The Learning Centre offers courses and foster awareness of programs offered by Deakin and The Gordon. It builds aspiration for tertiary study, and offers higher education and clear pathways into the undergraduate programs on offer at the Geelong campuses.
The Werribee Learning Centre provides a stylish and accessible space for education delivery, community functions and student engagement in the western suburbs of Melbourne.
Certificates, diplomas, undergraduate degrees and a suite of construction-related courses are offered at the Centre. Certificates and diploma courses delivered by The Gordon are primarily available in the classroom with tutors facilitating the learning. Bachelor's degrees are delivered by Deakin University and based on our successful blended learning model, where students will have a combination of in-class (with tutors) and cloud (online) learning.
Study Support
In addition to your tutor for each unit that you study, there are the following academic and peer support services available to all Deakin students whether you are studying at a campus, online or at the DLC:
Writing Mentors
Writing Mentors are current Deakin students who have excelled in their studies and have undertaken training to be the first point of contact to assist other students. They can answer a range of questions about assessment tasks, assignment structure, turnitin reports, academic referencing, extensions to due dates, CloudDeakin, student services and more. They are available online Monday 2 to 5pm and Tuesday to Friday from 11am to 2pm throughout the teaching weeks of Trimester 1 and 2 and can be consulted without an appointment. Learning Centre staff will assist you to dial in to the online meeting.
Language and Learning Adviser
Language and Learning Advisers are Deakin staff members who provide specialised support in the areas of assignment preparation and academic writing. You may be referred to an Adviser by a Writing Mentor for further assistance. Language and Learning Advisers are based at Deakin campuses and are available for online consultation until the end of the exam periods in Trimesters 1 and 2. Learning Centre staff will book an appointment for a 30 minute session for you. You can call them on 5227 2001 or email wlcentre@deakin.edu.au.
Maths Mentors
Maths mentors can assist you with numeracy and maths queries related to your course. They are current Deakin students who are trained to assist other students and are available online Monday to Friday from 11am to 3pm and Monday and Wednesday evenings from 6 to 9pm during the teaching weeks and study periods prior to exams. Learning Centre staff will assist you to contact a maths mentor via Skype or phone.
Academic Skills Support
An academic skills adviser will be available from Dandenong on Tuesday, Wednesday and Thursday from 9am until 2 pm to assist with specific questions about Cloud Deakin, unit assessment tasks, referencing, presentations and exams etc. WLC staff will assist you to set up a meeting via Skype, videoconference or phone.
Services and features
A shop front presence close to public transport
Premium, connected conference and meeting facilities
Advanced teleworking infrastructure
Wireless DeakinConnect rooms
A connected staff drop in point
---
Courses offered in 2016
---
Courses offered by The Gordon

The Werribee Learning Centre has been established in conjunction with The Gordon.
The Gordon offers vocational training and higher education courses in Children's Services, Business and Construction and Licensed Trades via the Learning Centre, and provides clear pathways into programs at Deakin or The Gordon's campuses in Geelong.
Gordon courses:
Agriculture, Horticulture and Conservation
An innovative pathway to higher education
Wyndham is the fastest growing region in Victoria and the fourth fastest growing region in Australia. The projected population is 236,657 residents by 2020, 5.5% of Melbourne's total estimated population. The south west of Melbourne is also increasing its demand for education with a 30% increase in students enrolling in university over the past two years.
Access to education is a significant driver of regional economic development and improving the pathways between school, Vocational Education and Training (VET) and higher education plays a core role in redressing disadvantage and meeting industry needs. The Werribee Learning Centre is an innovative partnership which leverages off the strong relationship between Deakin and The Gordon – a partnership that dates back 40 years. Seamless pathways between TAFE and university are particularly important for encouraging aspiration for students from low socioeconomic backgrounds.
Deakin has always had a strong reputation for innovation and in this digital age, has been driving the digital frontier in the use of new and emerging technologies in research and teaching. Deakin is developing a dynamic 'cloud learning' environment that includes open educational resources, new delivery platforms and new ways of assessing and credentialing learners. Deakin's learning sites are media-rich and utilise video conferencing, blogs and social media to create personalised and interactive learning wherever students are located.
General inquiries
Supervisor: Lisa Waldron
Please contact:
5227 2001 or
wlcentre@deakin.edu.au
Visit us:
Monday to Thursday, 9am - 5pm
Friday 9am to 4:30pm
9 Bridge Street, Werribee.
Or call 1300 DEGREE
(1300 334733) for more information about applying for a course at the Werribee Learning Centre.
Page custodian: Marketing Division Last updated: