2014 Careers Practitioners' Events
Deakin's 2014 Careers Practitioners' events are being held across all campuses. Careers Practitioners are invited to attend one or more of the following events. Please register and confirm your attendance for each event below. Registrations will close one week prior to each event. A confirmation email detailing further information and the agenda will be sent to you.
---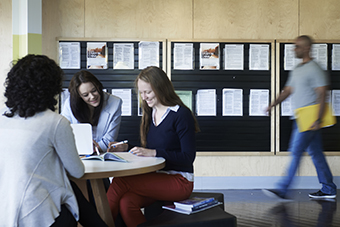 Geelong Campuses
Thursday 27 March
Optional workshops/ tours at the Geelong Waurn Ponds Campus (3.00 – 5.30 pm)
Dinner and presentations to follow (5.30 – 8.00pm)
Experience the Geelong Waurn Ponds Campus through optional tours and activities

New residences tour
Exercise and sport science activity
Optometry activity
Crime house activity
Engineering lab tour

Hear about regional initiatives from the Office of the Deputy Vice - Chancellor (Global Engagement)
Listen to one of the University's top researchers, Associate Professor Peter Miller, Principal Research Fellow at Deakin's School of Psychology.


In this keynote, Peter Miller will speak about some of his research and the effects alcohol and drugs have on the wider community, including adolescents. He will also discuss some of the unexpected opportunities he has had as a result of pursuing a career in research and why others might decide to explore research as a career option.

Enjoy canapés and network with your colleagues during the faculty expo
Learn about Deakin students' worldly experiences
Enjoy dinner with the Student Recruitment Team and our regional partners
If you are attending the Geelong Waurn Ponds optional workshops/tours (3.00-5.00pm), transport is available from The Gordon if required (only available for those attending The Gordon Professional Development Day).
Warrnambool Campus
Friday 23 May
(8.30 – 11.40am)
Hear about the Warrnambool Campus and key regional initiatives from the Head of Campus
Participate in an interactive lecture, across multiple sites using our state of the art facilities
Visit and experience our fish farm and marine facilities
Enjoy a delicious morning tea
Take part in an optional residences tour
Experience our Warrnambool residences (complimentary accommodation is available on Thursday 22 May – 20 beds available)
---
Events will contribute towards your professional development against CICA standards.
As workshops are designed to be interactive please ensure you wear appropriate footwear.