$4.4m Federal funding empowers Deakin-led dedicated energy centre
Media release
02 August 2018
Deakin energy researchers have been given the power to chart Australia's energy future, thanks to support from the Federal Government to set up an Australian Research Council Training Centre for Future Energy Storage Technologies.
Deakin Professor Maria Forsyth will serve as the centre's Director, coordinating six other senior Deakin researchers, along with investigators from The University of Melbourne, Monash University, Queensland University of Technology, University of South Australia and more than a dozen industry partners.
The $4.4 million Federal Government funding for the centre was announced today by Minister for Education and Training Senator the Hon Simon Birmingham, as part of the Australian Research Council's (ARC) latest round of National Competitive Grants Program funding.
Deakin Deputy Vice-Chancellor (Research) Professor Joe Graffam congratulated the Deakin University researchers and their teams who were awarded funding for their research in today's ARC announcement.
"To all those applicants who submitted their work for consideration, I thank you for making the effort on behalf of Deakin University and the broader communities we serve," Professor Graffam said.
Professor Forsyth, who is also Associate Director for the Australian Centre of Excellence in Electromaterials Science, said the new training centre would challenge existing thinking and expand Australia's capacity and training in energy storage technologies.
"We need to equip the next generation of researchers and the energy technology workforce with the skills needed to drive innovation, exploration and investigation, so we can safeguard our workers and industries," she said.
"There's an urgent need to work closely with industry to stay globally competitive by developing new materials and technologies in order to create efficient energy storage devices and identify ways to integrate these into end-user applications.
"This project will position Australia at the forefront of innovative research in energy technologies and will facilitate commercial opportunities for Australian industry."
The centre will utilise Deakin Waurn Ponds' Battery Technology Research and Innovation Hub (Bat-TRI Hub), as well as other existing facilities such as the Institute for Frontier Materials' (IFM) world-class electrochemistry and NMR imaging labs, and Deakin's Centre for Advanced Design in Engineering Training (CADET).
The Deakin Institute for Intelligent Systems Research and Innovation (IISRI) will also play a role simulating and reviewing smart grid and technology systems, while the Carbon Nexus carbon fibre and composite research centre will provide further scope for producing advanced energy prototypes.
"By harnessing the expertise of researchers and industry partners this project aims to deliver benefits for our economy, the community and the environment," Professor Forsyth said.
"This project is unapologetically future-focused and will help create the next generation of forward-thinking entrepreneurs. More than 20 scientists and engineers will be embedded in dynamic industry settings and will gain advanced skills in materials manufacture and energy storage device design and production.
"The centre expects to create new knowledge and intellectual property in advanced energy materials, batteries and battery-control systems, helping small to medium-sized enterprises to take a global leadership role in advancing and producing new storage technologies."
Other Deakin ARC funding recipients include:
Alfred Deakin Institute Associate Professor Maurizio Meloni, who was awarded a $917,134 Level 2 ARC Future Fellowship to investigate how epigenetics – the science of how environmental factors switch genes on or off – is reshaping notions of the body, heredity and biology in the Southern Hemisphere, exploring the extent to which epigenetics can and should influence social policy, and its potential implications.
School of Life and Environmental Sciences Dr Timothy Clark, who was awarded an $858,171 Level 2 ARC Future Fellowship to investigate how rising ocean temperatures have led to the shrinking of fish and other aquatic organisms, and what can be done to mitigate these negative impacts of climate change.
Find out more about the alternative energy solutions work being done by Professor Forsyth and her team at Bat-TRI Hub here.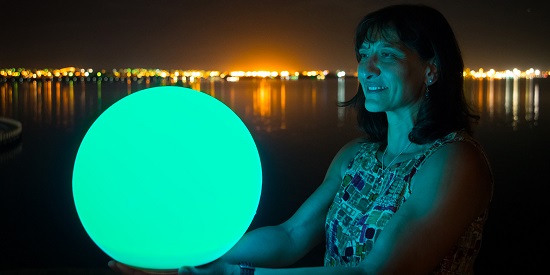 Key Fact
Bat-TRI Hub Director Professor Maria Forsyth
More like this
Media release
Faculty of Science Engineering and Built Environment
Institute for Frontier Materials (IFM), Institute for Intelligent Systems Research and Innovation (IISRI)
Designing smarter technologies