Aussie Rules not too dangerous for female knees: Deakin researcher
Media release
20 August 2019
Lack of training resources and opportunity, not biology alone, is a key reason women footy players have a higher rate of knee injuries than men, a Deakin researcher will tell a science and humanities forum this week (Thursday 22 August).
Dr Aaron Fox, a researcher within Deakin University's Centre for Sport Research, is part of a team investigating the notion that equality in opportunity, experience and training age in sport may vastly reduce the disparity in ACL injury rates between males and females.
Dr Fox will tomorrow present his knowledge in the area at the Falling Walls Foundation event at Deakin's city offices. Falling Walls, established in Germany in 2009 to mark 20 years after the fall of the Berlin Wall, supports organisations around the world to connect and unpick challenges related to science and humanities.
As part of it mission, the foundation organises an annual Falling Walls Lab, this year hosted by the Science and Society Network at Deakin's city offices. The event will include 16 academics, researchers and entrepreneurs, each who will give a three-minute presentation based on the 'which walls will fall next?' concept. Three will go on to compete in the Australian final in Canberra in September, with the winner competing at the Falling Walls Lab Finale in Berlin in November.
In his presentation "Breaking the Wall of Knee Injuries in Female Sport", Dr Fox will challenge the myth that differences in biology are the sole reason why women have a higher rate of ACL injury than men.
While ACL injuries were 6.2 and 9.2 times higher in the AFLW's first two seasons compared to the men's game across the same years, this situation could dramatically change with a level playing field.
"The 2019 AFLW season saw media headlines of a "knee crisis" after five anterior cruciate ligament (ACL) injuries in the first five rounds, with some commentary declaring that females are "made differently" and "more prone to do knees," Dr Fox said.
"Media attention emphasising Australian Rules as dangerous for females due to their "biology' may be misrepresenting a root cause of the ACL injury problem, perpetuating gender stereotypes that can restrict physical development and participation of females in sport."
Dr Fox said the relative infancy of female participation in Aussie Rules could partly explain the high rate of ACL injuries in AFLW, with many players having limited experience playing AFL as young children. This is in stark contrast to the typically lifelong developmental experience of male players.
He said the significant pay gap between male and female players also meant AFLW players had additional challenges of managing training commitments with other employment - leading to reduced access to facilities, training opportunities and medical/athletic development staff.
"We must question how to address the inequities in female player development and training opportunities, financial support and access to facilities and professional staff," he said. "Instead of asking whether Aussie Rules is safe for females, we must ask what we can do to address the inequalities in the system leading to ACL injuries in women's football."
The research team also includes Deakin's Dr Natalie Saunders, Dr Jason Bonacci and Dr Samantha Hoffmann, and Edith Cowan University's Associate Professor Sophia Nimphius.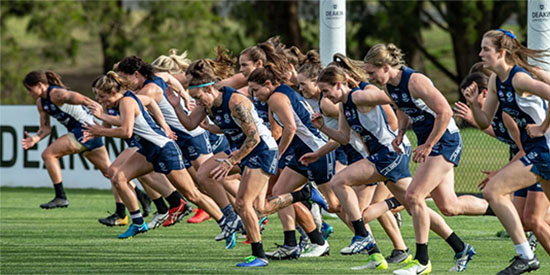 More like this
Media release
Deakin Business School, Faculty of Business and Law, Faculty of Health, School of Exercise and Nutrition Sciences, School of Health and Social Development
---