Climate change fuels autocracy in island nations: Deakin research
Media release
25 June 2019
Significant storm events are corroding the democracy of island nations, leading to a newly discovered phenomena labelled 'storm autocracies', according to new research from Deakin University.
Deakin Business School Professor of Economics Mehmet Ulubasoglu recently made the connection after analysing 60 years of data from 1950, finding strong links between the timing and frequency of storms affecting island nations and acts of government oppression.
Professor Ulubasoglu completed the analysis with Monash University's Dr Muhammad Habibur Rahman and Professor Nejat Anbarci, a researcher at both Deakin and Durham University in the UK. They used data from the Polity Score, an international political analysis tool that places governing authorities on a scale from full autocracy to consolidated democracy.
The researchers found that on average an island nation's Polity Score dropped by 3.46 per cent in the year following a significant storm event, and 10.1 per cent over the subsequent five years.
They also found that these governments increased their level of political oppression by around 2.5 per cent per year following storm events such as cyclones, typhoons, hurricanes and tornados.
Professor Ulubasoglu said a comparative analysis showed neither of these effects were experienced by landlocked or coastal countries, while the effect was noticeably more pronounced in smaller island countries, compared to their larger counterparts.
He said the research team had developed some theories about why this was the case, using an economic analysis tool called a 'dynamic game-theory model'.
"We believe that in the wake of disasters like storms, the government provides their citizens with post-disaster palliative relief, such as aid or financial assistance, and in this window of opportunity they are more able to take steps towards a more autocratic or authoritarian regime," Professor Ulubasoglu said.
"Citizens are less inclined to resort to an insurgency in these circumstances because of the disaster relief they are accepting as well as the perceived efficiency of more autocratic governments in decision-making during crises.
"Essentially what we are seeing is a form of mutually-agreed political oppression brought about by a natural disaster."
Professor Ulubasoglu said the new research helped to explain why storm-prone small island countries around the globe, such as Haiti, Fiji or the Philippines, had remained autocratic over prolonged periods.
"These are countries we're now dubbing 'storm autocracies'," he said.
"Using storms in island countries is a highly novel way of deciphering the autocratic turn we have seen in recent years, as it arguably offers rare causal evidence for a phenomenon that is otherwise a highly unique situation in countries caused by a range of historical, economic, cultural or other factors.
"The United Nations has declared climate change as the defining issue of our time, and the effects of the changing climate are arguably threatening island nations most urgently and devastatingly.
"These effects are not just rising sea levels swallowing land or rising sea temperatures decimating marine biodiversity, but also the increasing frequency and severity of climactic events such as storms."
Professor Ulubasoglu leads Deakin's Centre for Energy, the Environment and Natural Disasters, and oversees significant work squarely focussed on policies to better plan for the economic impact of such natural disasters, including floods, fires and storms.
He said the increasing effects of climate change would only make the research done in the centre even more relevant.
"This research on the effects of storms on political conditions is likely to illuminate the increasingly likely changes in the government-citizen relationship where storm autocracies may become even more prevalent than ever," he said.
"It's yet another unfortunate consequence of our inactivity on climate change that autocracies may continue to rise, thrive and endure."
Centre for Energy, the Environment and Natural Disaster (CEEND) CEEND provides high-quality, evidence-based and holistic research that tackles the most pressing energy, environment and natural disaster issues facing our global village. In marrying its socioeconomic, environmental, engineering and digital expertise, CEEND enables governments, communities and businesses to understand their risk exposure, adapt and become more resilient to the ever growing impacts these issues have on our Asia-pacific region, and beyond.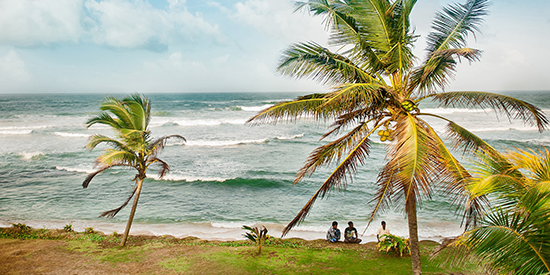 More like this
Media release
Deakin Business School, Faculty of Business and Law
---