Deakin awarded $3.2million in ARC funding for Discovery Projects
Media release
04 December 2019
Deakin University's world-leading research into blue carbon, the Internet of Things and the Islamic State are among eight projects announced today to receive more than $3.2 million in funding from the Australian Research Council (ARC).
Deakin's Deputy Vice Chancellor Research Professor Julie Owens congratulated researchers on their success in a highly competitive national grant scheme, crucial to discovery across so many disciplines.
"This funding will continue to drive Deakin's broad program of discovery research focussed on making a difference to the communities we serve," Professor Owens said.
ARC Discovery Project recipients include the following Deakin academics.
Professor Matthew Barnett, Director of the Institute for Frontier Materials - Real-time imaging of crystal strengthening mechanisms in metals
This project seeks to make a new bulk x-ray technique with an unprecedented ability to provide ultra-detailed images in shorter time frames. The discoveries will be used to develop a new computer simulation model of twinning in the light metal magnesium. It's hoped that a better understanding of how twinning effects the strength of magnesium will provide much needed confidence to implement the alloy more widely in energy saving applications - such as making lighter vehicles, in mobile devices and biomedical devices.
Professor Jinho Choi, School of Information Technology - Massive Data Reading with Mobile Data Collectors for the Internet of Things
This project will develop systematic and cost-effective approaches to mobile connectivity by making information from existing data collectors (such as smart phones) available to Internet of Things applications via existing 4G and 5G cellular systems.
Associate Professor Benjamin Isakhan, Alfred Deakin Institute - After Islamic State: Local-State-Global Heritage Dynamics in Syria and Iraq
This project will provide unprecedented empirical insights into how the people of Syria and Iraq perceive their heritage, and the extent to which it actually aligns with the attitudes of key state and global actors. The project will be carried out in collaboration with Stanford University's Professor Lynn Meskell.
Associate Professor Gery Karantzas, Director of the Science of Adult Relationships Laboratory, School of Psychology - Testing an Integrative Model of Interpersonal Partner Aggression
This project aims reduce the social and economic costs of intimate partner violence by developing and testing a much-needed integrative framework for researchers, practitioners and policy-makers to understand the factors that incite as well as inhibit intimate partner violence. This will assist with the screening and effective identification of couples who are most likely to be at risk. This information can then help counsellors, caseworkers and policy-makers to tailor their counselling and intervention programs, as well as policy, to help reduce cycles of intimate partner violence.
Associate Professor Eben Kirksey, Alfred Deakin Institute and the Institute for Advanced Study – The Promise of Justice
Justice is often framed as a human problem. How other species shape just or unjust futures is rarely considered. This collaborative project, focussing on the province of West Papua, a region plagued by conflict, will reconceptualise the notions of justice and make recommendations with regards to the environment, human rights and health. This project will be carried out in collaboration with the University of Sydney's Dr Sophie Chao, and Partner Investigator Dr Benny Giay.
Associate Professor Peter Macreadie, Director of Blue Carbon Lab, School of Life and Environmental Sciences - Engineering and Built Environment on Formation and Stabilisation of coastal blue carbon
This project will develop fundamental new knowledge to improve the management of Australia's coastal ecosystems. By safeguarding Australia's vast reservoirs of blue carbon and maximising their capacity to offset carbon, we can better prepare for and respond to climate change.
Professor Craig Olsson, School of Psychology - Intergenerational determinants of child development on school entry
This project will take advantage of a unique opportunity to follow third-generation offspring from one of Australia's oldest longitudinal studies of psychosocial development. The Australian Temperament Project has followed more than 2000 young Australians and their families since 1983, and more than 1000 offspring from pregnancy to age four since 2012. This project will expand offspring assessments to age six, marking the transition to school. Findings have the potential to reshape approaches promoting intergenerational wellbeing and breaking intergenerational cycles of disadvantage.
Professor Arkady Zaslavsky, School of Information Technology - Adaptive context caching for fast concurrent access in Internet of Things
The project team will develop algorithms that can pre-emptively store relevant validated information for fast, concurrent access by multiple Internet of Things applications in intelligent transportation, smart cities, industrial manufacturing, and defence application domains.
Deakin's success in these Discovery Projects follows the recent awarding of an ARC Discovery Early Career Researcher Award (DECRA) to Dr Thuong Hoang from the School of Information Technology. Dr Hoang's project, Information Embodiment Framework for Education using Immersive Technologies, will apply mixed reality technologies in education by fusing information with physical, physiological, cognitive and emotional perceptions.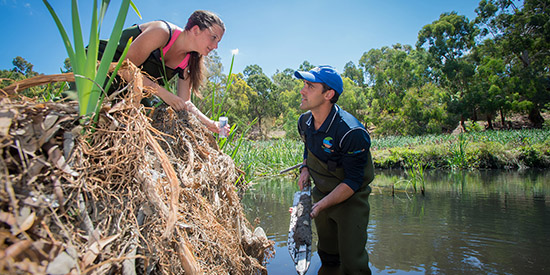 More like this
Media release