Deakin celebrates graduation of first Sanctuary Scholarship recipient
Media release
21 February 2020
Biomedical Science graduate Kavery Jeyakumar this month became the first Deakin student to graduate supported by the University's Sanctuary Scholarships program for refugees and asylum seekers.
Kavery completed her Bachelor of Biomedical Science at Deakin after fleeing Sri Lanka in 2009 during the final year of the civil war. A refugee from Kilinochchi in northern Sri Lanka, she had been forced to abandon her fifth-grade studies after schools stopped operating in her local area due to the constant threat of bombs and bullets.
Kavery and her family moved more than 12 times during the war, with her education on indefinite hold as they fled from one place to another. It was during one of these moves that she and her mother were injured during an air attack. Around the same time, her father was arrested and listed by the Sri Lankan Government as "missing". He is still missing to this day.
Under continued threat, Kavery, along with her mother and younger sisters, first fled to Malaysia, then on to Indonesia, then by boat to Christmas Island, and finally to the Australian mainland. This journey included two years' imprisonment in Sri Lanka, eight months' imprisonment in Malaysia, and six months' detention on Christmas Island.
Despite the tremendous hardships she has faced in her short life, Kavery was determined to reach her full potential and completed three years of high school in Australia, achieving great results during her VCE. Now, after receiving her Bachelor of Biomedical Science, she's one step closer to her dream of becoming a vet.
"It was very hard for me to be comfortable with the education system here in Australia after not going to school for almost five years," Kavery said.
"I still hoped and hoped that there would be someone that would help me and the help came in the form of the Sanctuary Scholarship. The scholarship not only helped me study, but it has reduced so much pressure and sadness in each and every member of my family.
"I am so grateful and thankful for everyone's contributions in helping me to overcome all the hurdles."
Deakin's Sanctuary Scholarships cover 100 per cent of tuition fees for the duration of a student's course, funded by the University, and also include a grant of $4000 per year which is supported by Deakin staff through workplace giving, alumni, friends of Deakin, and other donors.
"I'm always thankful to the people who thought of people like me in need," Kavery said.
Deakin Access and Equity Partnerships Manager Jane Finlay attended Kavery's graduation ceremony at Deakin's Geelong Waterfront Campus to show her support on behalf of the University's staff donors.
"It was a complete joy to witness alongside her family, Kavery being conferred into the degree of Bachelor of Biomedical Science at Costa Hall in the latest round of graduations.
"There are more than 30,000 asylum seekers living in Australia, but only about 200 have been able to study at university.
"Without Deakin's commitment to the Sanctuary scholarship program, Kavery's academic potential may never have been realised. I'm sure an unexpected career lies ahead for Kavery and I'm confident she will approach those opportunities with the same tenacity, determination and resilience we've witnessed in her during her undergraduate studies at Deakin," Ms Finlay said.
The Deakin Sanctuary Scholarships program supported 13 students in 2019, and a further five scholarships have now been offered for 2020. More information: https://www.deakin.edu.au/courses/fees-scholarships/scholarships/find-a-scholarship/deakin-sanctuary-scholarships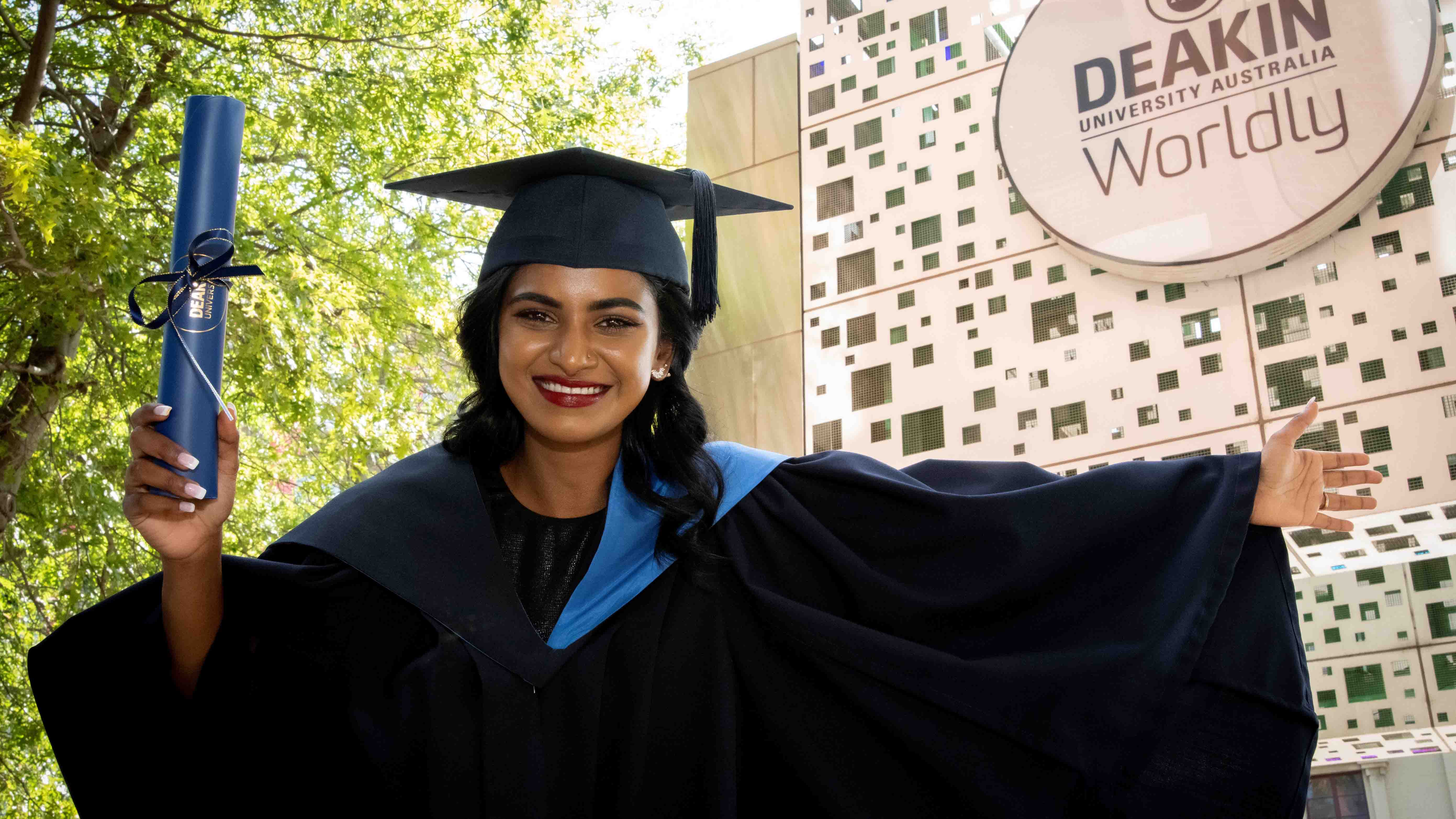 More like this
Media release