Deakin Crime Busters tour regional Victoria for Law Week
Media release
08 May 2019
Ballarat, Shepparton and Geelong residents can help crack cold cases, try their hand at sentencing and hear from some of Australia's leading barristers and detectives as part of a regional roadshow for Law Week 2019, presented by Deakin University.
Deakin's Law School is putting on the free events next week in collaboration with the Sentencing Advisory Council, Victoria Police, the Adult Parole Board, and local legal services in each regional city.
The 'Crime Busters' bus will travel to Ballarat on Tuesday 14 May, Shepparton on Wednesday 15 May, and Geelong on Thursday 16 May.
High school students are invited along to afternoon sessions from 1pm, which will include a 'You be the judge' workshop where they can decide on a sentence for a real crime.
Evening sessions beginning at 4pm are open to the general public, who can listen to a presentation on 'Thaw and Order' from Victoria Police's Cold Case Unit, as well as hear Deakin Associate Professor Theo Alexander, the barrister for Bourke Street killer James Gargasoulas, interviewed about defending the mentally impaired.
There will also be sessions about the role of the Adult Parole Board, as well as local crime issues and how the community can access legal help.
Deputy Head of the Deakin Law School Professor Marilyn McMahon said the school was running Crime Busters as a way of promoting community discussion about crime and how offenders were dealt with.
"Our speakers are experts and include senior police, academics, a barrister, and a former judge - people who can provide unique behind the scenes insights into how our criminal justice system really works," Professor McMahon said.
"We have sessions in the early afternoon aimed at students taking legal studies classes and later sessions aimed at the general community. Anyone who is interested in crime and the working of the Victorian criminal justice system should come along to these events."
For more information and a full Crime Busters program, visit the Law Week website here.
WHAT: Law Busters – Ballarat
WHEN: Tuesday 14 May 2019
WHERE: Ballarat Town Hall, 225 Sturt Street
WHAT: Law Busters – Shepparton
WHEN: Wednesday 15 May 2019
WHERE: Eastbank Function Room, Riverlinks
WHAT: Law Busters – Geelong
WHEN: Thursday 16 May 2019
WHERE: Room D2.194, Deakin University Geelong Waterfront Campus, 1 Gheringhap Street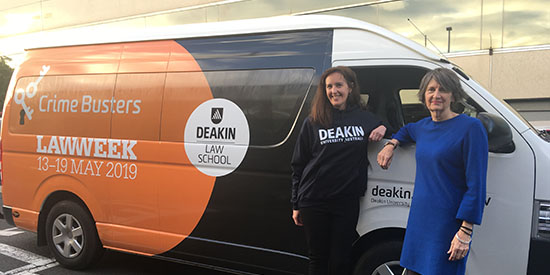 More like this
Media release
Faculty of Business and Law, Deakin Law School
---
Related News
Fracking ban a social and environmental win, but gas prices may rise
The Victorian Government's decision to ban the exploration and development of all onshore unconventional gas in Victoria, including the controversial process of hydraulic fracturing ('fracking'), is a social and environmental win for the state but may see gas prices rise, says Deakin University's Professor Samantha Hepburn.