Deakin engineering centre named in honour of former VC Professor Jane den Hollander AO
Media release
14 February 2020
The state-of-the-art Centre for Advanced Design in Engineering Training (CADET) at Deakin's Geelong Waurn Ponds Campus is now officially the Jane den Hollander building, in honour of the much-admired former Vice-Chancellor, and staunch Geelong advocate.
The official naming is being celebrated today, in a ceremony presided over by Professor den Hollander's successor Vice-Chancellor Professor Iain Martin, along with Chancellor Mr John Stanhope AM.
Opened in November 2015, the $55 million CADET building provides state-of-the-art engineering and design facilities for Deakin students and staff, including additive manufacturing technologies, CNC machining centres, 3D printers, a virtual reality lab, a chemical, corrosive and material lab, a high voltage lab, and design and realisation studios.
Professor Martin extended his thanks to Professor den Hollander for her nine years' of service and legacy establishing Deakin on the local and world stage.
"I'm following in the footsteps of a remarkable leader, and I thank Jane for her dedication to this wonderful university, and for working so hard to ensure the brightest of futures for all of its students, communities, partners and friends," he said.
"The past decade will be seen as a defining period for Deakin. Jane had the vision and leadership skills to respond to the many challenges, and to radically transform the prospects of Deakin and also of Geelong.
"Jane made the strong strategic decision to make Geelong Deakin's indisputable headquarters, and to build Geelong up as a university town. This decision has paid enormous dividends, not just for Geelong and Deakin itself, but for all of the communities we work with.
"My challenge is to build on Jane's impressive legacy at Deakin, and to carry this success forward. It is the sincerest form of respect I can offer."
Professor den Hollander said she was honoured and humbled to now have her name associated with the CADET building she fought so hard to establish during her tenure.
"The engineering building on the Waurn Ponds campus is iconic and a symbol of what Deakin has been able to achieve by thinking differently about education and research," she said.
"The building was the first designed under the LIVE the Future 2020 Agenda using a process of staff and student consultation of how contemporary, relevant engineering education should be designed and delivered in the 21st century. There is absolute proof that this building has delivered on the future.
"I am humbled to have my name associated with the CADET building. I also acknowledge the thinking and collaboration of the staff of the School of Engineering - their legacy is a robust School that demonstrates the values of innovation and excellence to the communities they serve."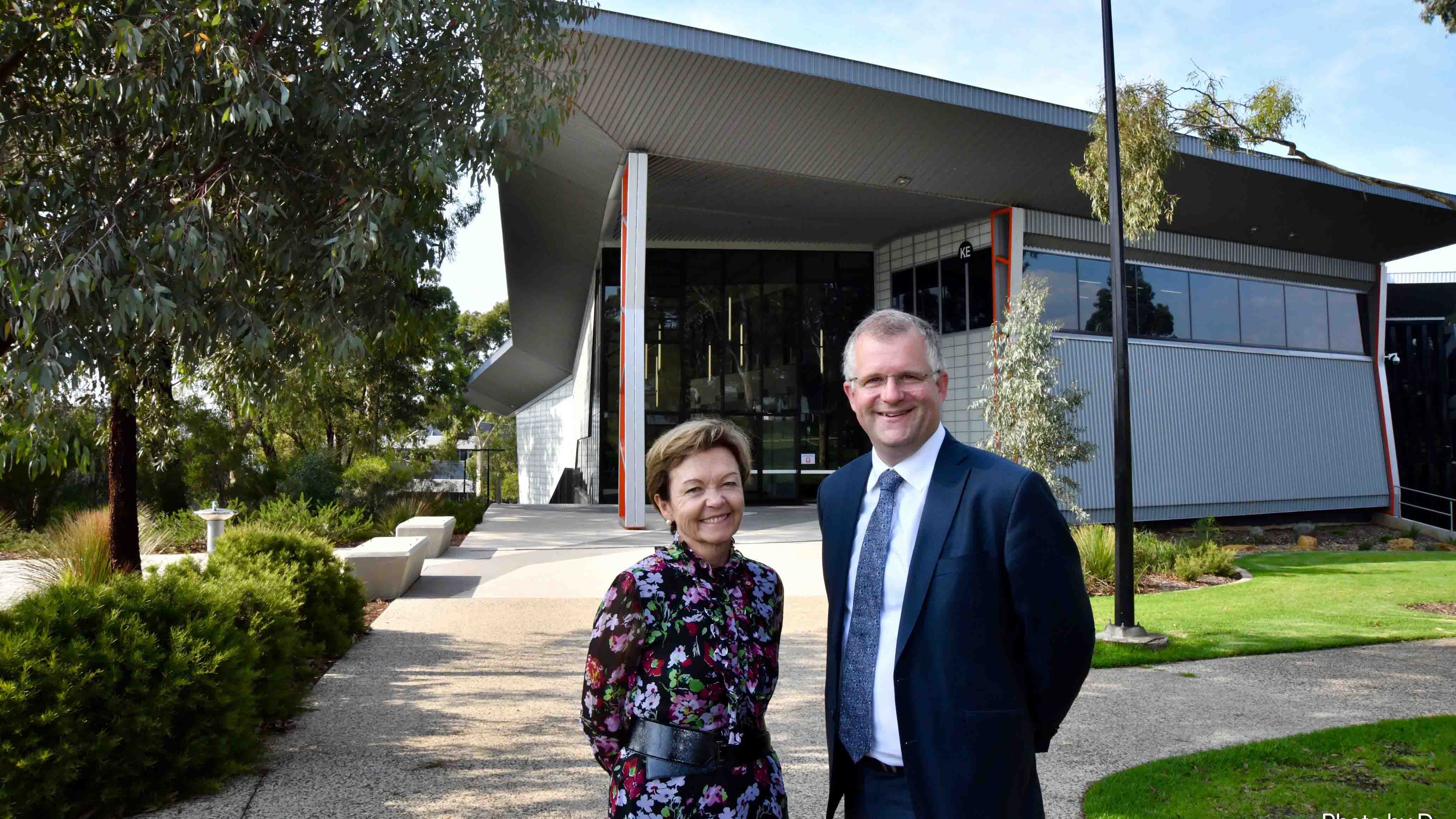 More like this
Media release