Deakin exercise science experts reveal the fitness HIIT of 2019
Media release
17 January 2019
A new year can often mean another new fitness fad in the hunt for a head start on health and wellbeing resolutions, but according to Deakin physical activity experts, the key to meeting fitness goals may be a trend that's already gained momentum.
Dr Samantha Hoffmann, a Lecturer in Deakin's School of Exercise and Nutrition Sciences, said High Intensity Interval Training - commonly known as HIIT - was effective because it led to equal or better results than moderate-intensity exercise, yet was quicker and could be more enjoyable.
"It's well known that people who enjoy their exercise routine are much more likely to stick to it, and it's been shown that HIIT tends to be equally or more enjoyable than traditional moderate-intensity exercise," Dr Hoffmann said.
"Recently, researchers from Canada have also shown that this enjoyment may actually increase as the weeks go on, compared to undertaking moderate-intensity exercise which showed enjoyment levels stayed constant over time. So in terms of kick starting a new year's resolution, an exercise routine incorporating HIIT is highly recommended.
"Rather than dropping out a few weeks into the New Year, you may even enjoy it more than when you first started. And, for those who struggle to find time to exercise, it has the added benefit of being much more time-efficient than traditional exercise."
Dr Hoffmann said exercising with a friend and incorporating a mode of exercise that you like - such as cycling, hiking, or team sport - were two extra ways of making exercise more enjoyable and hopefully turning a new year's resolution into a routine.
"Exercise enjoyment in the first few weeks of a new routine can be especially important for preventing dropout and ensuring you adhere to your new program long-term," she said.
HIIT is a form of interval training, alternating short periods of intense anaerobic exercise with less intense recovery periods.
Dr Hoffman said there were a number of benefits associated with HIIT such as increases in aerobic fitness and muscle mass, and decreases in lifestyle-related disease risk, blood pressure and body fat.
"For those who report a lack of time as one of the major barriers to being physically active, one of the most attractive benefits is that it is a time-efficient training strategy with a relatively small amount of total exercise, as little as 10 minutes," she said.
"Despite this small total amount of exercise, HIIT has been shown to enhance markers of health and fitness to a similar or greater extent than traditional moderate-intensity exercise, such as going for a 30 minute jog."
But fellow Deakin exercise scientist Dr Jackson Fyfe said it was important those who weren't exercising pre-resolution didn't jump into the deep end straight away.
"HIIT can be an enjoyable form of exercise, and may be a good way to help achieve your 2019 exercise goals, but whether HIIT is right for you does depend on your current exercise routine and fitness level," Dr Fyfe said.
"The guidelines for each population are different so it is important to follow the recommendations based on your needs and fitness status.
"If you aren't currently exercising, the importance of a pre-exercise screening by your GP or an accredited exercise physiologist before beginning any high-intensity exercise program cannot be overemphasised.
"If you are currently active, it's worth slowly building up the intensity of your exercise before you incorporate HIIT into your regime."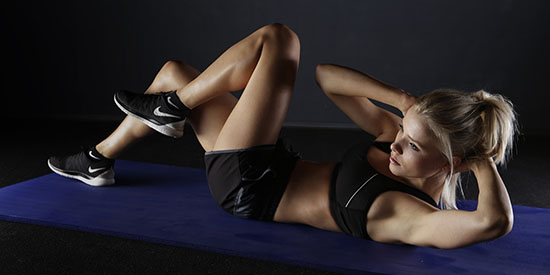 More like this
Media release
Faculty of Health, School of Exercise and Nutrition Sciences
Centre for Sports Research (CSR)
---
Related News
Deakin helps lift women's footy to new heights
Teams in the newly launched Eastern Region Women's Senior Competition, as well as those in the Eastern Region Girls under-16 and under-18 competitions, will now battle it out for the Deakin Cup, as part of a new sponsorship agreement.