Deakin Motion.Lab to showcase future of film at national screen event
Media release
14 November 2018
The high-tech future of animation, film and television will be showcased by Deakin University's leading movement, art and technology research centre, Deakin Motion.Lab, at this month's national screen industry professionals' event, SCREEN FOREVER.
Deakin Motion.Lab leader Dr Jordan Beth Vincent said she was thrilled with the opportunity to showcase the lab's research-backed technological advancements to the creative sector as part of SCREEN FOREVER's Innovation Hub.
"We are bringing intuitive, real-time integrated performance capture to film and television productions with our virtual production pipeline, The Alchemy Pipeline," Dr Vincent said.
"At SCREEN FOREVER, we will demonstrate the use of the pipeline, showing how animated sequences can be developed in a matter of minutes and feature full body motion capture, real time facial capture, real time visualisations, real time visual effects and virtual cameras.
"Our goal was always to create a cartoon in a day.
"This way of working allows for the rapid and collaborative creation of content. For example, real-time facial capture gives us a clear understanding of how the characters will react and interact, which is crucial for the storytelling.
"By replicating some of the workflows and tools of live action film-making and even theatre production, we are able to create a collaborative film production ecosystem."
Dr Vincent said they were using the innovative approach to create the lab's own animated children's production, The Adventures of Auntie Ada. The series showcases the benefit of using the Alchemy Pipeline and is aimed at children ages 6-9.
"The show is focused on encouraging girls into science, technology, engineering and maths subjects in a fun way that celebrates discovery, adventure and learning," she said.
"We will be cutting together sequences from Auntie Ada live for the audience at SCREEN FOREVER, to show the opportunities for using virtual production techniques to create animated content very quickly, without sacrificing creativity or storytelling."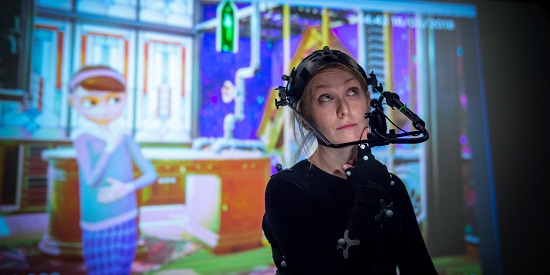 More like this
Media release
Faculty of Arts and Education, School of Communication and Creative Arts
---