Deakin ranked among most innovative companies in Australia and NZ
Media release
01 August 2018
Deakin was the only university to make the innovative companies list, and the highest-ranked education provider.
Deakin Chief Digital Officer William Confalonieri said the ranking recognised the University's efforts as a digital disruptor, and the effort that was being made to ensure it was among the world's most digitally innovative organisations.
"With our Smart Campus and Deakin Scout location services to guide students around campus, and our Deakin Genie digital companion, Deakin is dedicated to driving commitment to digital innovation and our goal of being Australia's premier university in the digital frontier," Mr Confalonieri said.
"Deakin Genie uses a familiar chat interface and voice recognition coupled with machine learning, which enables it to continually get smarter and more intuitive as more students access the software and build on their conversations.
"Our designers and developers have worked hard to bridge the gap between the human and the digital, so that every interaction with Genie feels as natural, comfortable and authentic as possible.
"We need to build the best version of the future for our students, meeting them where they are in their own lives and engaging with them in a way that is intuitive and inspiring."
Deakin Genie and Deakin Scout are now available to download from the App Store and Google Play Store.
Visit deakin.edu.au/life-at-deakin/why-study-at-deakin/deakin-genie to find out more.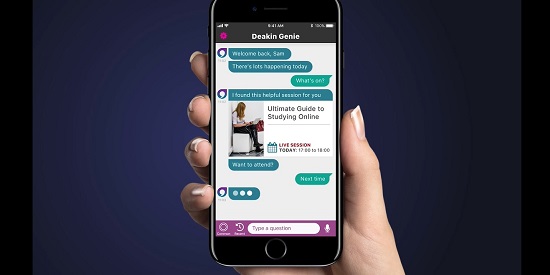 More like this
Media release
Designing smarter technologies
---
Related News
Sod turns on Deakin and AusNet Services' renewable energy microgrid
Deakin Vice-Chancellor Professor Jane den Hollander AO today joined AusNet Services Managing Director Nino Ficca and Mondo Executive General Manager Chad Hymas to officially turn the first sod on the $30 million Renewable Energy Microgrid set to power the University's Waurn Ponds Campus.