Deakin research finds Little Penguins bring big returns
Media release
01 July 2020
A Deakin study has revealed Warrnambool's Middle Island penguins have the potential to bring in hundreds of thousands of tourist dollars to the city as lockdown restrictions are lifted and Australians return to travel.
The research looked at the recreational economic benefits of the Middle Island Project to Warrnambool City, finding the destination to be significant drawcard for the region, with one-in-five tourists specifically travelling to see the Little Penguins and their guardian Maremma dogs.
School of Life and Environmental Sciences honours student Shelby Lyn Schumacher calculated the 'recreational value' alone to be more than $210,000.
"This figure is only part of total economic value of the project," Ms Schumacher said.
"The number doesn't include money on accommodation, or in local shops and restaurants as a result of coming to see the Little Penguins – so I'm confident that the return on investment is even greater for Warrnambool City Council.
"The data proves the value of continuing financial support for conserving the penguin population, and it is a great example of how small conservation projects can lead to economic gains for communities."
The Maremma guardian dogs were introduced to Middle Island as an experiment to see whether they could help protect the bird colony during breeding season, after foxes reduced the colony's numbers down to just four. The experiment proved hugely successful, inspiring the Australian film Oddball.
"I wanted to see whether the Middle Island Project was economically viable," Ms Schumacher said.
"My instinct was that it draws significant tourist numbers to Warrnambool, so I tested this idea for the long-term benefit of the project. Island tours are popular with visitors - of all who took the tour, 62 per cent pre-booked before arriving in Warrnambool.
"Forty-five per cent of the people who visited the established drawcard destinations of Market and Flagstaff Hill had either taken the Middle Island tour, or planned to before leaving the region.
But Ms Schumacher said there was a bigger story to tell from her research, beyond monetary value.
"It demonstrates the importance of local support for conservation and tourism," she said.
"By targeting locals for support we can indirectly target those who are visiting the Warrnambool region as most are visiting family and friends. It also helps to find sponsors and volunteers for the project.
"While Little Penguins aren't endangered, this shows that people want to conserve small populations and protecting these populations will ultimately contribute to keeping an entire population from becoming endangered."
Ms Schumacher hopes her research will help to secure the future of the Little Penguin colony at Middle Island.
"Ultimately I'm an ecologist and this study is about ensuring that long term investment into the Middle Island Project continues," she said.
"Environment and economics may sound conflicting, but more and more environmental scientists are aware of the interdisciplinary approach required to manage animal populations– ecological economics are part of the equation in conserving habitats and wildlife."
City of Greater Warrnambool Mayor Tony Herbert said: "The research into the value of the Middle Island Little Penguin Project builds a picture of the importance and benefits of the Project, from not only a wildlife conservation perspective but it also provides insight into the economic and tourism value for Warrnambool."
Deakin School of Life and Environmental Sciences' Dr Anne Wallis, who was part of the team that introduced the Maremma dogs to Middle Island in 2006, said modern ecologists must understand the relationship between conservation, society and economics.
"Times have changed, so we as scientists have had to change our approach and understanding too," Dr Wallis said.
"There's no longer any doubt about the importance of eco-tourism for helping to conserve wildlife. More and more ecological projects have to demonstrate a level of self-sustainability to truly stand a chance at conserving wildlife in the long term.
"Wildlife managers are also coming to accept that conservation, economics and tourism must go hand-in-hand with inter-disciplinary research work for the greater environmental good."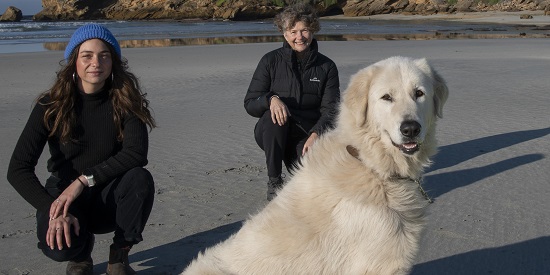 More like this
Media release
Faculty of Science Engineering and Built Environment, School of Life and Environmental Sciences
---