Deakin scientists trial new way to supress smokers' cravings
Media release
29 January 2018
An over-the-counter nutritional supplement could hold the key to smokers quitting for good, according to a group of Deakin University and Barwon Health researchers.
Scientists at the Centre for Innovation in Mental and Physical Health and Clinical Treatment (IMPACT) are starting a clinical trial to evaluate how effective the substance n-acetylcysteine is in helping people quit smoking.
Lead researcher Seetal Dodd, a Clinical Associate Professor in Deakin's School of Medicine, said NAC (as it is commonly known) helped the body make glutathione, an important anti-oxidant enzyme, and was a popular nutritional supplement, as well as being used in some medicines.
"At IMPACT we have pioneered research using NAC - a naturally occurring substance found in many green leafy vegetables - for the treatment of mental disorders," Associate Professor Dodd said.
"This new study sets out to prove the benefits of taking NAC for people who are attempting to quit smoking."
Associate Professor Dodd said for this trial NAC would theoretically work as an anti-craving agent.
"NAC can reduce symptoms of craving in drug addiction and our previous research has suggested that it may also work to help people to quit smoking," he said.
"So although it doesn't help people make the initial quit attempt, we're hoping that it is effective in helping people avoid starting again."
Associate Professor Dodd said a lot of nicotine cessation aids had fairly severe consequences, so NAC could offer a milder alternative, which was cost-effective too.
"Previous work by our research team has also indicated that NAC can be effective at treating mental illnesses such as depression and schizophrenia," he said.
"This could mean that as a smoking cessation aid NAC assists with, rather than exacerbates, psychiatric symptoms, unlike some other products."
The IMPACT team is looking to recruit 60 people across Melbourne and Geelong to take part in the trial. Half will be given the NAC and half a placebo.
Research assistant Lauren Arancini said it would be a double blind trial, so those administering the treatment won't know which participant is in which group.
"Trial participants will need to visit us four times - at the start of the intervention, after eight weeks, 16 weeks and then a follow-up at week 42. But they will only be taking the medication until week 16," Ms Arancini said.
"We will be collecting a lot of information through questionnaires on things such as mood, personality, substance use and mental health, but we will also be collecting saliva samples at each interview to check for traces of nicotine."
If the trial confirms that NAC is effective at helping people quit smoking, Ms Arancini said it could quickly be translated into a common pharmacotherapy.
"The fact that it's both more tolerable and cheaper than other alternatives already on the market could make for a speedy adoption of NAC for this purpose," she said.
To find out more about the trial and/or apply to participate, visit www.nacetylcysteine.net.au or email lauren.arancini@barwonhealth.org.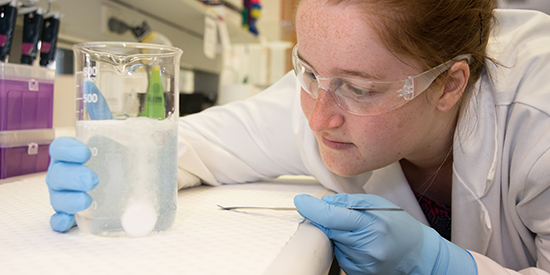 More like this
Media release
Faculty of Health, School of Medicine
Innovation in Mental Physical and Clinical Treatment (IMPACT)
---