Deakin scoops three AFR Higher Education awards
Media release
28 August 2019
Deakin University has won three prestigious AFR Higher Education Awards including anthropologist Professor Emma Kowal being jointly named Emerging Leader with Dr Christian Moro from Bond University.
The 2019 Australian Financial Review (AFR) Higher Education Awards were held last night, Tuesday 27 August, in Brisbane.
Deakin's HSBC Blue Carbon Citizen Science Program shared the Industry Engagement award and Deakin Indian Research Initiative (DIRI), won the International Education award. Deakin RIOT Lab Enabling Effective Cloud and Located Learning was also a finalist in the Education Technology award category.
Deakin Vice-Chancellor Professor Iain Martin said Deakin's wins and shortlisting across four award categories was wonderful recognition of the depth of talent and innovation in its researchers and education programs.
"Alfred Deakin Institute Professor Emma Kowal, a medical and cultural anthropologist, is an outstanding leader in research at Deakin and in the field of genomics," Professor Martin said.
"Dr Kowal's work in tailoring treatments to an individual's genes is aiming to provide earlier diagnoses of genetic conditions or illnesses.
"The Blue Carbon team's Citizen Science program, led by Dr Maria Palacios, is empowering Australian industries to understand how they can invest in a sustainable future, while advancing Deakin University's research on coastal wetlands and climate change.
"And DIRI supports PhD students in India while they work in the private sector, helping them to extend their research capability and promoting collaboration with industry.
"I warmly congratulate all of Deakin's award winners and nominees. Their work is truly world and industry-leading and shows great promise for addressing current and future challenges."
The annual AFR Higher Education Awards celebrate the contribution of higher education to Australian prosperity and quality of life in ten categories. The judging panel includes the editor of the AFR, current and former vice-chancellors and chancellors and other experts in higher education. Read more here.
Deakin and the AFR awards
In 2018, Deakin Genie won the Information Technology category and in 2015, DeakinSync for Students won the Employability award.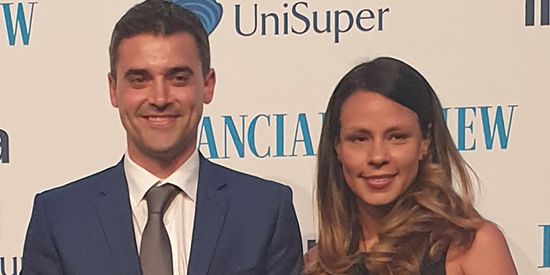 More like this
Media release
Faculty of Arts and Education, Faculty of Science Engineering and Built Environment, School of Humanities and Social Sciences, School of Life and Environmental Sciences
Alfred Deakin Institute for Citizenship and Globalisation (ADI), Centre for Integrative Ecology (CIE)