Deakin social work students gain insight into working alongside Aboriginal families
Media release
19 October 2017
A new teaching tool is providing Deakin University social work students with a unique insight into working alongside Aboriginal and Torres Strait Islander families.
Yaneekan-werreeyt (Wadawurrung for Journey) is an interactive learning tool that immerses students in the lived experience of Aboriginal families involved with the child protection system.
Developed by Deakin's School of Health and Social Development, Institute of Koorie Education and Deakin Learning Futures, in consultation with Aboriginal communities and key stakeholders in Geelong, the resource provides students with a fuller understanding of cultural considerations when working with Aboriginal families.
Dr Sophie Goldingay, course director of Deakin's Bachelor of Social Work, said yaneekan-werreeyt provided a more immersive insight into Aboriginal culture than other types of course content.
"It is highly likely that our students will be working alongside Aboriginal families when they join the workforce, so it is essential that we provide them with the skills and knowledge to ensure they practice in a way that is culturally safe and effective and does no harm," Dr Goldingay said.
"My vision is that this resource will help to support social workers to think twice about their decisions and use appropriate services that, for example, can employ Aboriginal family-led decision making rather than the default position of removing children from their families and culture.
"While current course content does include information about Aboriginal culture, yaneekan-werreeyt provides an immersive experience that puts a face to the issues.
"It draws the students in and enables them to imagine they are the social worker and having to make decisions. This level of engagement is not possible through written words alone."
Yaneekan-werreeyt is built around a series of 'rooms' that provide a range of resources for students to explore including history, policy, legislation and services.
The key feature of the tool are a series of videos that that follow the journey of 'James', a young boy who was removed from his mother and placed in the care of his father, a move than enabled him to maintain a connection to his culture and land.
These videos place students in the room with James during art therapy sessions and give an insight into the importance culture and connection to the land and family play in his young life.
A video filmed in a first-person format follows James's mother 'Evelyn' and gives an authentically raw view into her life as she negotiates mental health issues, family violence, drug addiction and disconnection from her son.
Social work lecturer with the Institute of Koorie Education, Jodie Satour, explained that yaneekan-werreeyt was unique because it had been developed in consultation with Aboriginal people.
"Part of the journey when developing yaneekan-werreeyt was to ensure the right people were involved in every aspect of the project," Ms Satour explained.
"This included drawing on the world views and culture specific to the traditional custodians of the land on which Deakin's Geelong campus sits, the Wadawurrung people of the Kulin Nation.
"By engaging with local voices, experiences and cultures we have provided students with an authentic taste of what it is like for Aboriginal families.
"However, we do emphasise that these experiences are specific to the culture of the Wadawurrung people and that local culture will change depending on location.
"We want students to be culturally responsive and sensitive to the culture of the land they are on, to look into the history, the current situation and understand the local Aboriginal people's relationship to land and country."
Yaneekan-werreeyt is part of the curriculum for years one and two in the social work Bachelor degree with plans to include it in the course materials for the Master of Social Work Qualifying degree.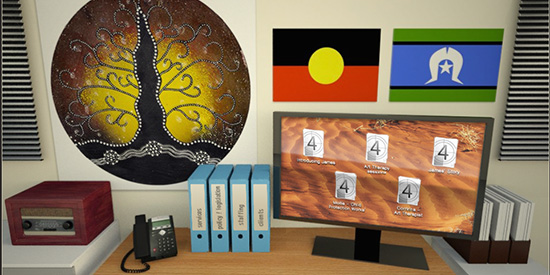 More like this
Media release
Institute of Koorie Education, School of Health and Social Development
---