Deakin student shows Geelong Railway Station as place of welcome
Media release
07 November 2019
An ambitious plan for the future of the Geelong Railway Station is just one of the projects to feature in an exhibition by Deakin University's graduating architecture students being showcased in Melbourne and Geelong this month.
Jarrod Argent's re-envisaged station precinct defines the railway station as a gateway to Geelong, in the same way as Flinders Street Station plays a key role as an iconic meeting place in Melbourne.
The Masters Student said he wanted to solve the problem of the scheduling bottleneck caused by the single tunnel access between Geelong and South Geelong stations, make better use of the land around the station that is currently used for car parking and open up access to Geelong West via a new western concourse.
His project, 'The Pivot: Redux', proposes five key considerations:
Providing the infrastructure, mixed use and public attractions for Geelong to again become a 'Pivot City' through population growth and development.
Supporting '20 Minute City' ambitions by addressing the rail tunnel bottleneck with a second tunnel running underground between Geelong and South Geelong.
Balancing public amenity with commercial development and maximising economic returns via mixed-use development of 500 residences, hotels, offices, retail and dining alongside public squares, markets and amphitheaters.
Acknowledging its function as a social centre, not just a train station, and a future where more people commute via bike, autonomous transport, or work online from home.
Healing urban scars by improving pedestrian movement and visual integration between the station and the city's landmarks.
"This is an aspirational brief that envisages a future of reduced car usage, emissions and congestion and creates a station better embedded in Geelong's public consciousness as a space of both transport and broader use," Mr Argent said.
His project is just one of a series of projects on display in PaperSpace, Deakin's annual exhibition of work by architecture and landscape architecture students at undergraduate and master degree level.
Other projects include a reimagined Cunningham Pier, Fyansford Paper Mill, Barwon River site and Phoenix Wool Scouring Works.
The exhibition is currently at Federation Square and will open in Geelong next week.
Melbourne
4-8 November.
9am-9pm.
The Atrium, Melbourne Federation Square
Melbourne event Link: https://www.facebook.com/events/506033023284695/
Geelong
12-22 November
A+B Gallery Deakin Waterfront
Geelong Event link https://www.facebook.com/events/445374682774355/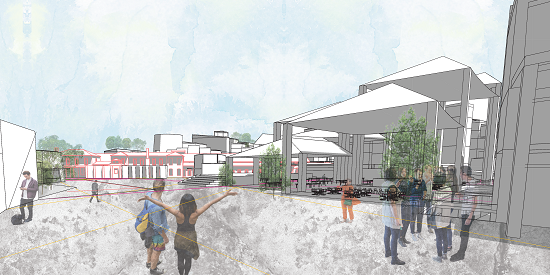 More like this
Media release
Faculty of Science Engineering and Built Environment, School of Architecture and Built Environment
---