Deakin students find skiff project builds friendships, not just boats
Media release
20 November 2019
A group of Deakin University students has been putting their engineering skills to good use in a boat building program benefitting them, as well as the local community.
The students from Deakin's School of Engineering have been volunteering alongside members of the Corio Bay Community Skiff Rowers Association on the design and construction of a number of skiff boats, in addition to a special project improving oar design.
School of Engineering senior lecturer Dr Hamid Abdi said the program at the Old Fyansford Paper Mill was devised to give students valuable hands-on building experience as well as strengthen their links with the Geelong community.
"Most of the students are studying masters degrees and many come from different parts of the world including India, Pakistan, China, Brazil, Sri Lanka and Nigeria," Dr Abdi said.
"The program involves the students in all practical stages of traditional and modern boat building of the Scottish-designed wooden boat called a St Ayles Skiff.
"In the process, they are also introduced to a wide range of people outside the university, including experienced craftsmen from diverse professional and social backgrounds, and come to learn about Australian work and social culture."
Project coordinator and Masters student, Muhsin Kizhisseri, and two other Masters students, Hafiz Hamza Basit and Ali Usman Ibraheem, have been working on a separate but related project to advance the design of the oars used in St Ayles Skiffs racing, festivals and recreational activities around the world.
"The oars in this class can be redesigned within certain guidelines and this has been a great focus for engineering analysis," Mr Kizhisseri said.
"We have developed a lightweight oar with less drag that will achieve maximum response for minimum effort. We plan to publish the results of our research, supported by a video to the global St Ayles Skiff Coastal Rowing Association."
President of the Corio Bay Community Skiff Rowers Association, Peter Doyle, said the meticulously designed and hand-crafted oars would make a real contribution to the future of the world-wide St Ayles Skiff movement.
"We are now looking forward to teaching our boat and oar builders to actually row the boats they have built," Mr Doyle said.
Around 75 students have taken part in the program, run on Tuesday evenings and Saturday mornings, and the aim is to make seven more St Ayles Skiff boats and four sets of oars for each boat.
"One of the highlights of this program is the interest it has sparked among our students in skiff building and oar making," Dr Abdi said.
"It is also contributing to the Australian sports industry by building racing skiffs and new generation oars that will be used in competitions across Australia."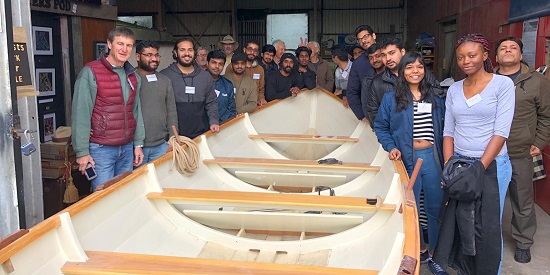 More like this
Media release
Faculty of Science Engineering and Built Environment, School of Engineering
---