Deakin study shows city walkability can fix disadvantage health gap
Media release
21 February 2019
Promoting 'walkability' in city neighbourhoods is a key way to reduce health inequality between the rich and poor, according to new Deakin University research.
The study, published in the journal Health & Place, evaluated data from 200 Brisbane neighbourhoods, comparing each area's walkability with the 'physical function' of its residents.
Walkability is typically characterised by street connectivity, higher dwelling density and diverse land use mix, or a combination of all three.
Lead research Dr Venurs Loh, a postdoctoral research fellow in Deakin's Institute for Physical Activity and Nutrition, said her study showed that better walkability was associated with better physical function for residents of Brisbane's most disadvantaged neighbourhoods.
"Research shows those living in advantaged neighbourhoods report better physical function than those in disadvantaged neighbourhoods," Dr Loh said.
"Physical function is defined as the ability to undertake the activities of daily living - for example cooking, cleaning and shopping - as well as more vigorous activities that require increasing degrees of mobility, strength or endurance, such as running.
"What our new paper shows for the first time is that a high level of walkability in a disadvantaged suburb can narrow the gap between residents of rich and poor neighbourhoods when it comes to physical function, ultimately addressing a key inequality in public health.
"A walkable neighbourhood is indicative of greater access to a variety of destinations - education, employment, healthcare services, shops, and recreation facilities - which are important to health.
"One reason we believe the benefits are more obvious in disadvantaged areas is residents are less likely to own a car, so are more reliant on walking to get around."
Dr Loh's study focussed on measuring residents from middle to old age, when physical function can start to deteriorate.
"Australia has an ageing population so we need to get ready to accommodate that, creating an environment to support 'ageing in place' by reducing barriers to facilitate mobility and independence," she said.
"In higher density neighbourhoods, destinations such as shops, services, and workplaces are more likely to be close to people's homes, encouraging pedestrian activity.
"The mix of commercial, institutional, office, and residential zones available in a neighbourhood are also important because people are more likely to walk in neighbourhoods with diverse land uses and a variety of centralised facilities and services that are closer together, with shorter travel distances between them."
While the research was carried out in Brisbane, Dr Loh said there were still some important learnings for cities around Australia.
"Brisbane is a little special because it has better walkability in some disadvantaged neighbourhoods compared to more advantaged areas, and that may be different to other cities like Melbourne or Sydney," she said.
"Every city is of course unique. But having good walkability is important wherever you are and whatever age you are too.
"We would encourage local governments to audit their neighbourhoods to determine what barriers they have and what they need to do to intervene to improve walkability in their communities.
"We want to provide planners and policy makers with a more robust basis on which to design healthy communities. In this case, to create or improve walkability in all neighbourhoods to reduce social inequalities in health."
This research was completed as part of the HABITAT Project, a longitudinal study in Brisbane, Australia, examining patterns of change in health and wellbeing from 2007 to 2016. It received funding from the National Health and Medical Research Council (ID 497236, 339718, 1047453 and 1061404).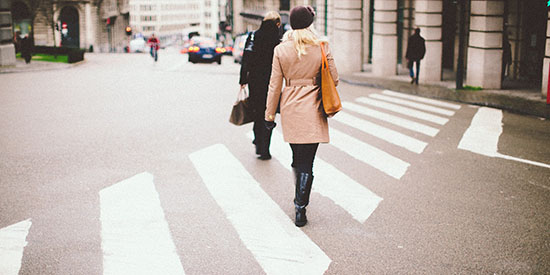 More like this
Media release
Faculty of Health, School of Exercise and Nutrition Sciences
Institute for Physical Activity and Nutrition (IPAN)
---