Deakin University celebrates its 250,000th graduate
Media release
18 June 2019
Deakin celebrates the graduation of its 250,000th student this week, as the University hosts its winter series of graduation ceremonies for 2019.
Bachelor of Nursing student Sophie Macfarlane is the 250,000th graduate to receive their Deakin degree in the University's 45-year history. Ms Macfarlane will mark the occasion by giving the Graduate Response at the midday ceremony on Tuesday.
Deakin Vice-Chancellor Professor Jane den Hollander AO said the University had experienced a surge in growth and community support in recent years, after celebrating its 200,000th graduate in only 2014.
"Deakin's students are our greatest advocates, and we are delighted to have now helped 250,000 people realise their academic dreams," Professor den Hollander said.
"For generations universities have been both a compelling indicator and a powerful instrument for human progress. We at Deakin are proud of Sophie, her fellow graduates and all of the Deakin students who have joined our University community.
"It has been a privilege to be part of their education, and I encourage all of our graduates to remember the values they have learnt during their time with us, to be a force for good and show the world that Deakin has helped them to become the very best they can be."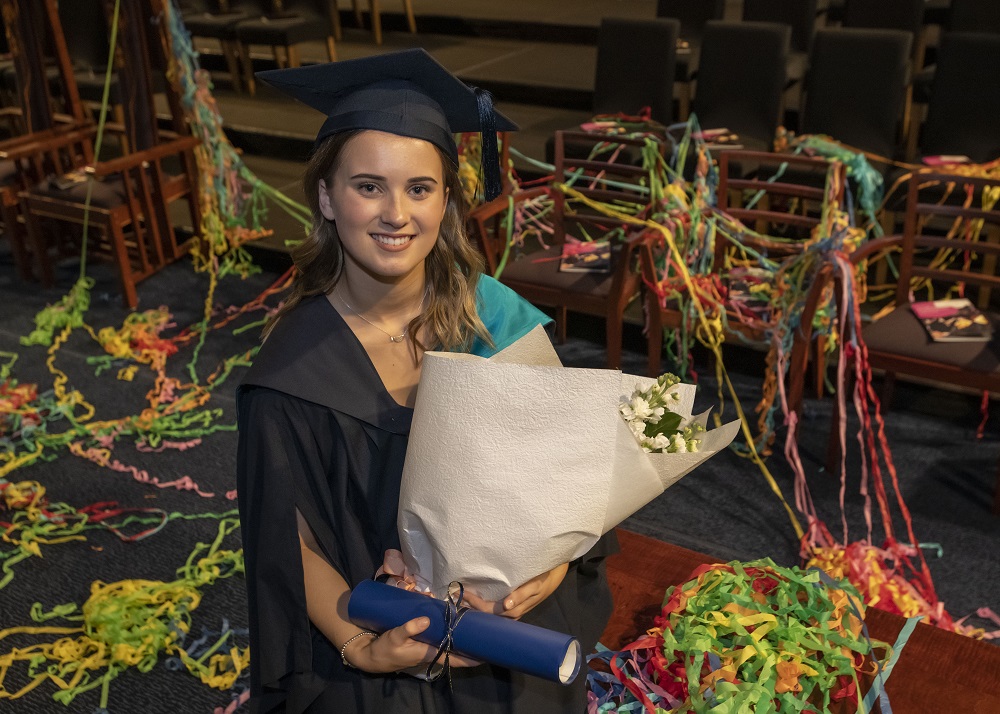 Ms Macfarlane said she now wanted to continue her education journey, aiming to complete post-graduate studies in paediatric nursing and share her knowledge through on-ward education.
"I chose to study at Deakin because of their high-quality nursing course and opportunities to do clinical placements from first year," she said.
"In a lot of ways the challenges I faced during my studies were typical of the standard university student. I struggled with timeframes, motivation and completing the clinical placements, but my family were always so supportive.
"My siblings were a huge help in getting me motivated to study, and they were always willing to be a study friend spending late nights with me at the Deakin library.
"Now that I've graduated, I'm hoping to continue to learn and further my studies, and to start educating nursing students at the end of my graduate year. I'm also aiming to take opportunities to work in other parts of the hospital to explore different areas and expand my skills and clinical knowledge."
The winter series of 2019 Deakin graduations is being held over four ceremonies at the Waterfront Geelong Campus from Tuesday 18 to Wednesday 19 June.
Occasional Addresses for the ceremonies will be presented by:
Ms Melinda Smith OAM, world renowned disability consultant, mentor, performer, and visual artist.*
Professor Joe Graffam, former Deakin Deputy Vice-Chancellor Research and higher education advocate.*
Mr Michael Mansfield, Morgans Financial Wealth Management Organisation Partner and former AFL player.
Mr Robert Costa, Geelong businessman and community leader, Costa Asset Management Chairman.*
More information is available at deakin.edu.au/life-at-deakin/graduations
*also receiving a Deakin Honorary Degree.
Are you a member of the Deakin Alumni Community? Update your details here to enjoy benefits such as Alumni competitions, DeakinTALENT programs and services, library membership, networking opportunities and more.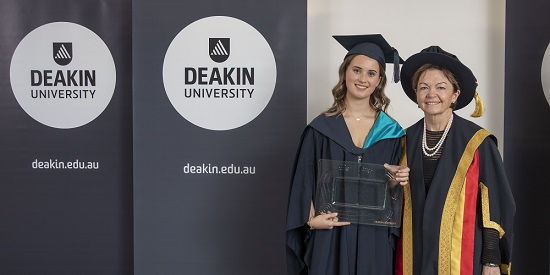 More like this
Media release
Faculty of Health, School of Nursing and Midwifery
---