Deakin welcomes Labor's $10m pledge for new indoor stadium
Media release
13 May 2019
Deakin will partner with Federal Labor to build a new state-of-the-art four-court indoor sports stadium at the Waurn Ponds campus, with a $10 million election pledge announced by The Hon. Tanya Plibersek MP, Deputy Opposition Leader and Shadow Minister for Education and Training, and for Women.
The announcement cements Deakin's status as a leader in tertiary sports across Australia and the world, with the new highball indoor sports stadium to be the first of its type in the region and expected to attract national and international competitions.
The $57 million project features four compliant indoor courts with modern change rooms and the flexibility to configure the new stadium as a single showcourt retractable seating for 2000 people and with international-standard broadcast facilities.
The indoor stadium includes dedicated teaching and research space, to embed Deakin's Women in Sport and Exercise (WISE) hub. WISE is leading world-class research to improve women's participation in sport and exercise across their lifespan, and by strengthening relationships with communities and partners.
Deakin Vice-Chancellor Professor Jane den Hollander AO joined Mr Andrew Giles MP, Shadow Assistant Minister for Schools, and candidate for Corangamite Libby Coker, at the Waurn Ponds Sports Precinct Friday 10 May to tour the site with sporting representatives and officially unveil the expansion plans. Professor den Hollander said Deakin strongly welcomed Labor's commitment.
"We are taking an already world-class sporting precinct at our Waurn Ponds campus and adding a jewel in the crown with an incredible new four-court indoor sports stadium," Professor den Hollander said.
"This investment is a game changer for Deakin as we position ourselves as a major and committed player in advancing sports research, innovation and participation, particularly in women's sport. On the partnership side, we have strong strategic ties with Geelong's AFL and AFLW sides, the Melbourne Boomers in the Women's National Basketball League, Netball Australia and the Cadel Evans Great Ocean Road Race.
"Deakin has a global reputation for excellence in the field of sports and exercise science, having been rated Australia's number one sports science school for the past three years, and third in the world.
"Sport is a powerful vehicle for positive health outcomes, emotional wellness and socialisation. It encourages camaraderie and team work, a balanced lifestyle and a sense of achievement and it builds and strengthens communities.
"Through WISE, Deakin is doing some significant research to better understand the barriers and enablers when it comes to women's lifelong participation in sport, and specifically when women return to exercise and sport participation after childbirth. And our Centre for Sport Research is focused on improving general health and performance through sport – from investigating effective coaching techniques to using data analytics to predict and enhance performance."
The new indoor sports stadium will transform Deakin's Waurn Ponds Sports Precinct - which already boasts an MCG-size AFL oval, synthetic FIFA-grade soccer pitch, an eight-lane IAAF-accredited 400-metre athletics track, a 50-metre long-jump track and sandpits and a new high-quality baseball diamond. Construction on the new indoor stadium is expected to commence early next year with completion due in 2024.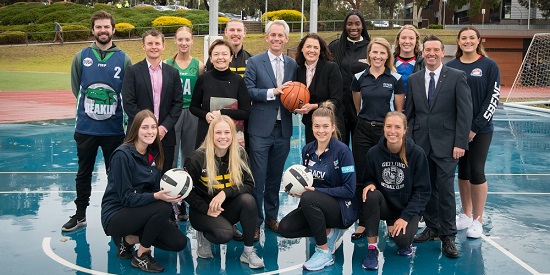 More like this
Media release
Faculty of Health, School of Exercise and Nutrition Sciences
Centre for Sports Research (CSR)
Sport
---
Related News
New Deakin tracking study captures pro netball performance
Deakin sports experts are using local positioning technology to track and evaluate elite netballers on the court, producing new information and position-by-position breakdowns to assist coaches and optimise players' physical preparation.