Deakin welcomes new Vice-Chancellor
Media release
01 July 2019
Professor Iain Martin has commenced his term as Deakin's seventh Vice-Chancellor and President, and looks forward to spending time in his first weeks meeting students and staff from the University's Burwood, Geelong, Waurn Ponds, Warrnambool and Cloud campuses.
Professor Martin said he was honoured and greatly privileged to lead Deakin and continue the ambitious strategy of addressing the challenges and opportunities of the future to benefit our communities and Australia more widely.
"I believe in, and greatly admire, Deakin's direction and progress," he said. "As one of Australia's largest universities, Deakin has strong global linkages, world-class research and most importantly an educational portfolio that blends the best of campus and digital delivery into a highly supportive and personalised student experience.
"Deakin's future will depend on how we create a distinctive combination of our people, purpose and place, underpinned by the values that shape our decisions and actions. We must continue to weave together these threads and be a university that is distinctly Deakin.
"It was just over 45 years ago that the Deakin University Act was written and our founding goals of 1974 remain the essence of Deakin today; to improve access to higher education for students from diverse backgrounds and to develop positive relationships with rural and regional communities to ensure they benefit from all that our university has to offer.
"As we build on our history we will continue to push the boundaries; through new approaches to delivering an outstanding education for our students, innovative digital leadership, expanding our community and industry connections, and through research excellence and global reach. I look forward to meeting and listening to many students, staff and friends of Deakin in the coming weeks."
Deakin Chancellor John Stanhope said the University Council was pleased to welcome Professor Martin to Deakin.
"Professor Martin shares Deakin's values, including that students are a university's true north and he believes in Deakin's overall strategy. Deakin has had extraordinary success under the care of Professor Jane den Hollander AO and I am confident that Professor Martin's skills, leadership style and personal values will enable Deakin's further success while remaining faithful to our core strengths," Mr Stanhope said.
"Professor Martin has an impressive track record of successful academic leadership and is a very good fit for Deakin. Before becoming Vice-Chancellor of Anglia Ruskin University in 2016, he was Deputy Vice-Chancellor Academic at the University of New South Wales from 2012 to 2016."
Professor Martin spent the previous 12 years at the University of Auckland where he held a number of positions, including Head of Surgery, Dean of the Faculty of Medical and Health Sciences and, for the last 18 months of his time there, as Deputy Vice-Chancellor Strategic Engagement with responsibility for external and international engagement.
Professor Martin was born in South Wales and spent his childhood in Hampshire. He studied medicine at the University of Leeds and trained and worked as a surgeon in Leeds before moving to New Zealand in 2000. He is married with two children.
In welcoming Professor Martin, Mr Stanhope paid tribute to former Vice-Chancellor Professor Jane den Hollander AO. "Professor den Hollander is a great leader and will always be a strong ambassador for Deakin. On behalf of University Council and the entire Deakin community, I express our sincere gratitude for Jane's service over the past nine years," he said."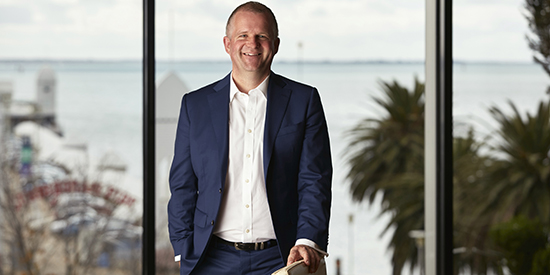 More like this
Media release