Deakin's Costa Hall shines anew with COVID makeover
Media release
26 February 2021
Concertgoers attending tomorrow night's performance of Mozart by the Geelong Symphony Orchestra will be the first to enjoy the newly renovated interior of Deakin University's much-loved Costa Hall.
The recently completed $4.5million upgrade of the 1530 seat auditorium at Deakin's Waterfront Campus has improved disability access with the installation of a Disability Discrimination Act (DDA) compliant lift and a hearing loop to enhance the listening experience for people with hearing aids.
Other works completed include refurbished seating, a refresh of the stage floor and wall finishes, redecorated dressing rooms and green room, an upgrade to the Box Office and bar, and new carpets and paintwork.
Deakin University Chief Operating Officer Kean Selway said the major project had already been in the planning and was brought forward during last year's COVID-19 shutdown when live performances were unable to be held.
"The significant and intricate nature of the upgrade required access to both the public facing and backstage areas," Mr Selway said.
"Our investment improves functionality and comfort for all members of the audience as well as performers and will ensure Costa Hall remains a favourite of music and concert lovers for many more years to come.
"Deakin is enormously proud to be custodian of such a wonderful facility that enriches the cultural life of our community and attracts world class performers to our region."
In their first concert for the 2021 season, Richard Davis will conduct the Geelong Symphony Orchestra as they perform some of Mozart's finest music, including the magnificent Jupiter symphony.
The program will also feature the Flute concerto K.314 and the overture from The Marriage of Figaro.
Geelong Symphony Orchestra Board President Wendy Galloway OAM said the orchestra was thrilled to return to the stage at Costa Hall.
"Our last performance before the lock-down was at Costa Hall on 28 February last year – exactly a year ago on Sunday - so we are so pleased that our first performance back in front of an audience will be in the wonderfully refurbished Costa Hall," Ms Galloway said.
"We are grateful to have Deakin University as our principal partner and are very excited that our performance will give concert goers their first glimpse of the new-look auditorium."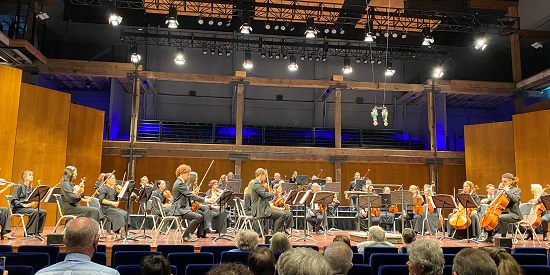 More like this
Media release