Deakin's ManuFutures opens doors to innovation at Waurn Ponds
Media release
16 April 2018
US fire officers will prepare for future fire seasons using revolutionary virtual reality technology developed by Deakin University engineers and incubated at the new $13 million ManuFutures, officially opened by the State Government today.
Deakin Vice Chancellor Professor Jane den Hollander AO joined Minister for Regional Development Jaala Pulford to launch ManuFutures, an incubator to grow start-up and established advanced manufacturing businesses in regional Australia.
The incubator fuses industry capabilities and business models with Deakin's creative imagination and industry-focused research strategies.
The State Government has supported the project with a $3 million investment from its Regional Jobs and Infrastructure Fund, while Deakin University supplied the land and $10 million as part of its innovation strategy to rebuild manufacturing in the wider Geelong region.
ManuFutures, housed at Deakin's Waurn Ponds Campus, began operations in January and has already supported 51 jobs, with nine companies now on site and additional growth underway.
The nine companies, all tenants of the University with specific agreements including training opportunities for undergraduate and postgraduate Deakin students, are: FLAIM Systems (a haptic training device for large fire prevention); short polymer fibre developers HeiQ Australia Pty Ltd; Conflux; Insight Engineering; Partington Advanced Engineering (36T); Formflow; The Smart Think; Carbon Revolution's process optimisation and development line; and Universal Motion Simulation.
Professor den Hollander said the companies, who all had strong links to research and teaching at Deakin, exemplified the modern approach to innovation and job creation.
"Far more than a building, ManuFutures epitomises university-industry relationships as commercial businesses collaborate with Deakin's leading research centres and faculties at Waurn Ponds, including the Centre for Advanced Design in Engineering Training, the Institute for Frontier Materials, the Institute for Intelligent Systems Research and Innovation, the Applied Artificial Intelligence Institute and the Institute for Health Transformation Systems," Professor den Hollander said.
"Deakin University is committed to the communities we serve and ManuFutures is a key part of our commitment to ensuring new industry growth and job creation, not just in Geelong but throughout the state. Innovation to create new ways of making things is essential if we wish to remain smart, globally competitive, and based in Australia.
"Typically, great Australian inventions are refined and monetised overseas, but in order to compete through a strong economy, Australia must link high technology innovation to new ideas and do so quickly and competitively. Deakin Geelong has proved a perfect environment with ManuFutures fully occupied and with 51 new jobs one month after occupancy of all tenants."
Professor den Hollander said FLAIM Systems was a perfect example of the ManuFutures vision.
"FLAIM Systems is a company borne from Deakin University research at the Institute for Intelligent Systems Research and Innovation, now partnering with global systems integrator Dimension Data to create world-leading firefighting training technology soon to be launched in the US," she said.
"FLAIM Systems perfectly showcases ManuFutures' vision to embrace the fusion between teaching and learning, cutting edge research, industry engagement and commercialisation, so that advanced manufacturing in regional Australia can flourish with real world outcomes.
"This emphasis on industry collaboration and innovation goes to the heart of the valued relationship shared between Dimension Data and Deakin University, and it is very satisfying to see FLAIM Systems today taken from an idea in a laboratory to propagation in the real world."
FLAIM Systems' key technology is the FLAIM Trainer™ simulator, which uses an immersive virtual reality environment – combined with a patented haptics feedback system, breathing apparatus and heated personal protective clothing – to provide a unique training experience.
The system has proven to be a safe, low cost and mobile solution that can simulate a range of fire events and conditions – allowing firefighters to train more, train smarter, and train anywhere.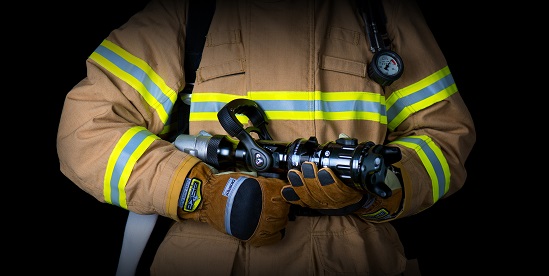 Key Fact
FLAIM Systems' firefighting technology (above) encapsulates the ManuFutures vision.