Expert panel discusses Deakin guide for using Indigenous culture in design
Media release
13 May 2019
First Nations designers and other key leaders will gather at Federation Square's Deakin Edge theatre this month to explore the impact of the International Indigenous Design Charter, a first-of-its-kind guide for practitioners to follow when representing Indigenous culture.
The International Indigenous Design Charter is an expansion of the Australian Indigenous Design Charter, developed by Deakin University's School of Communications and Creative Arts with experts from the Institute of Koorie Education, in collaboration with Indigenous Architecture and Design Victoria (IADV), and the Design Institute of Australia.
Since its launch at the 2017 World Design Summit Congress in Montreal, the International Charter has been adopted by design studios and businesses around the globe.
The Charter outlines best practice protocols for working on projects representing Indigenous culture, such as providing an environment where Indigenous stakeholders oversee creative development and the design process, and ensuring Indigenous people share in the benefits from the use of their cultural knowledge – especially when it's being applied commercially.
Deakin Senior Lecturer in Screen and Design Dr Russell Kennedy was one of the University's co-authors for the Australian Indigenous Design Charter, along with Associate Head of School (Teaching and Learning) Dr Meghan Kelly.
"The Indigenous Design Charter Project promotes the recognition of Indigenous culture within the broader definition of 'design practice' including communication design, branding, architecture and the built environment," Dr Kennedy said.
"The Australian and International Charters encourage designers to explore methods that replace pre-established colonial ideas with a new paradigm of representation."
IADV Director and Charters co-author Jefa Greenaway (Wailwan, Kamilaroi), one of Australia's few Indigenous architects in private practice, said the Charters offered a means to build cultural design intelligence guided by the world's oldest continuing living cultures.
"The International and Australian Indigenous Design Charters were created in part to address the UN's declaration on the rights of First Nations people to practice and revitalise their cultural traditions and customs – including their right to maintain, protect and develop the past, present and future manifestations of their cultures through design," Mr Greenaway said.
"The Charters have since enabled Indigenous knowledge to shape design practice in way that we hadn't seen previously, and have proven they can be applied in a local context to help facilitate the accurate and respectful representation of Australian Aboriginal and Torres Strait Islander culture.
"As guiding documents, the Charters have informed authentic and respectful outcomes when representing Indigenous culture in professional practice, allowing designers to develop a better understanding of how to engage with Indigenous knowledge appropriately."
Speakers for the Indigenous Design Thinking Conversations event include Mr Greenaway; NITV-SBS Marngrook Footy Show presenter Shelley Ware (Yankunytjatjara, Wirangu); Marcus Lee Design founder Marcus Lee (Karajarri), whose studio has worked on Indigenous designs for the AFL, Coles, NAB and Australia Post; Indigenous design specialist and University of Technology Sydney researcher Michael Hromek (Budawang/Yuin); and ENESS creative director and co-founder Nimrod Wies.
They will be joined by former Olympic hurdler Kyle Vander-Kuyp (Yuin), who has been playing a key leadership role helping Schiavello Group to increase direct Indigenous employment and participation across its workforce. Schiavello used the principles of the Charters to oversee the development of its Schiavello Ganbu brand mark using a culturally respectful creative process.
Indigenous Design Thinking Conversations is presented as part of the City of Melbourne's Melbourne Knowledge Week 2019.
Event: Indigenous Design Thinking Conversations
When: 5.30pm to 7.30pm Tuesday 21 May 2019
Where: Deakin Edge, Federation Square, Flinders Street, Melbourne, Victoria
More details: mkw.melbourne.vic.gov.au/events/indigenous-design-thinking-conversations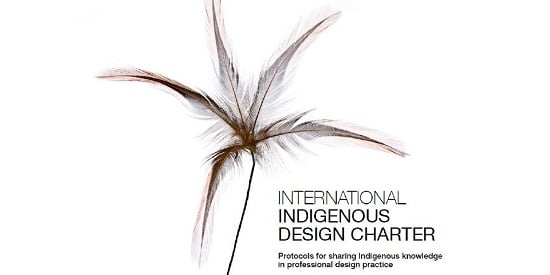 Key Fact
"Indigenous Design Thinking Conversations"; 5.30pm to 7.30pm Tuesday 21 May 2019; Federation Square, Melbourne.
More like this
Media release
Faculty of Arts and Education, School of Communication and Creative Arts
Design