Global call for joint action on obesity, undernutrition and climate change
Media release
29 January 2019
A new international report linking obesity, undernutrition and climate change is calling for more global actions that address all three issues at once.
The Lancet Obesity Commission report, authored by 43 world-leading public health experts - including three Deakin researchers - recommends the establishment of a global treaty on food systems to galvanise international action to create healthy and sustainable food systems.
The report follows the publication earlier this month of the Lancet-EAT Commission, which provided the first scientific targets for a healthy diet within planetary boundaries.
Lancet Obesity Commissioner Professor Steven Allender, Director of the Global Obesity Centre in Deakin's Institute for Health Transformation, said malnutrition in all its forms, including undernutrition and obesity, was by far the biggest cause of ill-health and premature death globally.
"Excess body weight affects two billion people worldwide, while two billion people also suffer from micronutrient deficiency, and both problems are expected to be made significantly worse by climate change," Professor Allender said.
"Obesity, undernutrition and climate change have long been viewed as separate, but not only do they share many key drivers, their outcomes interact as well.
"For example, food systems not only drive the obesity and undernutrition pandemics but also generate more than a quarter of global greenhouse gas emissions, with cattle production accounting for more than half of these emissions.
"Car-dominated transportation systems support sedentary lifestyles and generate between 14 and 25 per cent of emissions.
"Climate change will increase undernutrition through increased food insecurity from extreme weather events, droughts, and shifts in agriculture."
But Professor Allender said these close connections meant that there were shared solutions too.
Among the actions recommended, the Commission calls for the establishment of a Framework Convention on Food Systems - similar to global conventions for tobacco control and climate change - to restrict the influence of the food industry in policy making and to mobilise national action for healthy, equitable and sustainable food systems.
"Economic incentives must be redesigned, and the trillions of dollars in government subsidies to fossil fuel and large agricultural businesses globally should be redirected towards healthy and environmentally sustainable activities," Professor Allender said.
"Additionally, a global philanthropic fund of US$1 billion must be set up to support civil society in advocating for change."
Deakin University academics are already leading a number of Australian projects aimed at addressing nutritional health and climate change in tandem.
Associate Professor Gary Sacks, from Deakin's Institute of Health Transformation, recently published a paper showing that if a proposed carbon tax was extended to Australian agriculture, it could have a significant effect on reducing dietary-related disease, as well as greenhouse gas emissions.
The study, published in the Australian & New Zealand Journal of Public Health, found such a tax would increase the price of some unhealthy foods that were also carbon intensive, such as processed meat, thus likely resulting in a decrease in consumption of these foods.
"We estimated that extending the carbon price to agriculture would reduce food-related greenhouse gas emissions by 6 per cent," Associate Professor Sacks said.
"Our modelling showed a carbon price on food would also reduce the average Australian's energy intake by 116kJ per day, and would decrease the overall prevalence of obesity by 2.4 per cent, with almost two thirds of that change in weight due to reduced calories from meat.
"Both climate change and obesity are driven by over-consumption. By ensuring that the price of food reflects its impact on the environment, we could take steps to reducing some of that over-consumption."
Professor Allender is also overseeing a novel new project that will help improve Victorian communities' resilience to address climate change and healthy and sustainable eating.
The project, funded by a grant from the Lord Mayor's Charitable Foundation, and set to be run in partnership with the Southern Grampians Glenelg Primary Care Partnership this year, encourages communities to take up the challenges of climate change and obesity in combination.
"Projects like these show positive change is happening, and communities are taking up the challenge," Professor Allender said.
"Communities, leading scientists and thought leaders all agree joint action on climate change, obesity and undernutrition are critical. More importantly there is rapidly emerging will and commitment for wholescale change that will preserve the health of future generations."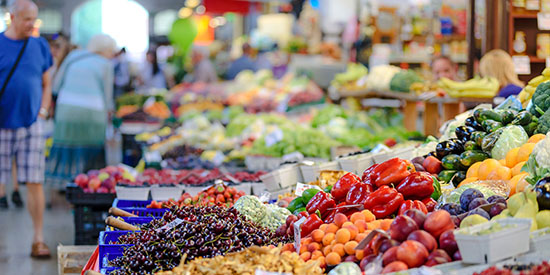 More like this
Media release
Faculty of Health, School of Health and Social Development
Institute for Health Transformation (IHT)
---