Lewis Bandt's family relives Ute joy through virtual reality
Media release
28 February 2020
The daughter of Geelong Ford Ute designer Lewis Bandt has had the chance to view one of her late father's celebrated vehicles in 3D as part of a Deakin University project that is bringing the vehicle to life in virtual reality.
Dr Ros Bandt, a pioneering and celebrated sound artist, was given a sneak peak of the project at Deakin's CADET VR Lab ahead of its public unveiling during Geelong Design Week 2020 later this month.
Dr Bandt said she was thrilled to see a 3D version of the 1934 Ford Ute, which was designed by her father and was the first Ute model to roll off the assembly line at Ford's North Geelong plant.
"I can see dad smiling on this," said Dr Bandt. "Dad would have turned 110 on February 26 and it is lovely to celebrate that milestone by seeing the work of the Deakin team who are ensuring the virtual survival of this classic vehicle."
Dr Kaja Antlej, from the CADET VR Lab in the School of Engineering, said the Geelong Design Week project will give Ute lovers and Ford fanatics the chance to view the 1934 Ute as well as a 2009 Ford Falcon XR6 in 3D and help decide how these images can be turned into a virtual reality museum experience.
"We are hosting an industry round table and community workshop on March 24 and are inviting both car enthusiasts and history buffs to come along and see Geelong's great tradition of inventions in 3D form," Dr Antlej said.
"We are exploring how immersive experiences like virtual reality change the way local communities think about heritage."
Dr Antlej and her team have gathered information from the community which describes what locals think about design and manufacturing in Geelong and the round table and workshop will help start a discussion about the role of design and manufacturing in Geelong's cultural heritage and how this can be safeguarded for future generations.
"We have based our 3D images on one of the few surviving early Utes that still exist in Australia. There are no models here in Geelong for locals to access so this project will give people a virtual model to see and experience," Dr Antlej said.
Geelong Design Week 2020, from 19 to 29 of March, celebrates Geelong as a UNESCO – City of Design by looking at the impact of design and the way it improves our lives.
The Geelong Inventions past and Future – Industry Round Table and Community Workshop will be held on Tuesday 24 March at the National Wool Museum. Cost is free but reservations are essential:
Round Table RSVP: https://www.eventbrite.com.au/e/geelong-inventions-past-and-future-industry-round-table-tickets-84833698877
Community Workshop RSVP: https://www.eventbrite.com.au/e/geelong-inventions-past-and-future-community-workshop-tickets-89516479199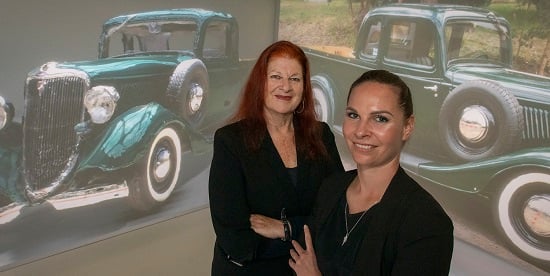 More like this
Media release
Faculty of Science Engineering and Built Environment, School of Engineering
Designing smarter technologies
---