New Deakin tracking study captures pro netball performance
Media release
26 August 2020
Deakin sports experts are using local positioning technology to track and evaluate elite netballers on the court, producing new information and position-by-position breakdowns to assist coaches and optimise players' physical preparation.
Dr Lyndell Bruce, from the Deakin Centre for Sport Research, said the pioneering approach to netball performance by tracking player movement had previously been limited by netball's indoor court environment, which blocks global positioning system (GPS) satellites.
Dr Bruce and her team used player-worn commercial tracking devices to produce a more accurate picture of what elite netballers go through during a match – vital information at a time when COVID-19 lockdowns and social distancing requirements have heavily impacted pre-season preparation and training programs.
"Previously, the lack of reception for GPS has restricted what we've been able to do when trying to objectively measure player movement and intensity," Dr Bruce said.
"What we've been able to do now is use athlete-worn local positioning devices and radio frequency technology to get a much more accurate picture of what's happening on the court. This is the first study to measure and present the physical movement demands of elite netball with measures derived from both accelerometer and local positioning systems."
By tracking a group of elite players during the 2019 Suncorp Super Netball season, researchers were able to create unique profiles for each position on the court. Dr Bruce said the new information will allow for more specific and individualised training programs for netballers.
"This could allow coaches, both skill and strength and conditioning, to identify which drills and training best align with the physical requirements of competitive match-play for different positions and different athletes," she said.
"Now we can show, for example, that Goal Shooters do the most jumping or Centres use the most accelerations and decelerations. Goal Keepers and Goal Shooters have lower change of direction demands, but they incur the greatest change of direction demands relative to their area of movement, meaning they could benefit from performing drills in a confined space.
"Because every player is unique, we can work with coaches to develop specific, individualised training routines that best fit the player and optimise their physical preparation.
"Due to COVID-19, many teams haven't been able to have a normal preparation with practice matches in pre-season. Understanding the demands of the game will assist in prescribing appropriate recovery methods for athletes, especially during this condensed season schedule where teams are regularly playing two games in three to four days."
Dr Bruce's study was conducted with Deakin sports scientists Dr Aaron Fox and Edward Brooks, as well as Swinburne University's Associate Professor Amanda Benson. Their full paper, "Physical movement demands of elite-level netball match-play as measured by an indoor positioning system", has been published in the Journal of Sports Sciences.
Deakin University is a major sponsor of the Suncorp Super Netball league Melbourne Vixens, and a major partner of Netball Australia.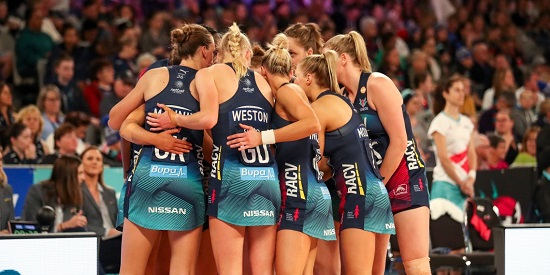 More like this
Media release
School of Exercise and Nutrition Sciences, Faculty of Health
Centre for Sports Research (CSR)
Sport
---
Related News
Deakin welcomes Labor's $10m pledge for new indoor stadium
Deakin will partner with Federal Labor to build a new state-of-the-art four-court indoor sports stadium at the Waurn Ponds campus, with a $10 million election pledge announced by The Hon. Tanya Plibersek MP, Deputy Opposition Leader and Shadow Minister for Education and Training, and for Women.