Renewable energy passion fuels Hycel's newest and youngest recruit
Media release
04 February 2021
While most university students are enjoying a break from study at this time of year, third-year Deakin University engineering student and Warrnambool local Michael Loughhead is hard at work learning about the future of hydrogen as the first intern to join the Hycel clean energy initiative.
Michael explained that he simply couldn't pass up an opportunity to help in the transition to clean energy as part of Deakin University's Hycel, a ground-breaking research, testing and training initiative in Warrnambool.
"I'm studying mechanical engineering and since high school I have aspired to work in renewable technologies. Working with Hycel is an amazing opportunity, I'm so excited to put my knowledge to use and grateful to do it in my hometown" Michael said.
As the inaugural recipient of the Salt Creek Scholarship in 2019 and now the inaugural Hycel intern, Michael's connection to renewable energy continues to grow.
At Hycel, Michael is investigating the feasibility of converting Deakin's Warrnambool campus to 100 per cent hydrogen and will be with the team until April. His work with Hycel will also integrate into professional practice for his course.
"It's great to have a summer job that furthers my study and increases my professional experience. I'm passionate about renewable technologies which makes coming to work easy and exciting," Michael said.
Hycel's Program Manager, Adam Fletcher, hopes to expand these opportunities so that more Deakin students can gain professional experience with Hycel's project specialists and increase their knowledge of hydrogen.
"Hycel is helping to pave the way for Australia's clean energy future, so it's important to also grow and support our future leaders," Mr Fletcher said.
Deakin University's Hycel is a ground-breaking research, testing and training initiative in Warrnambool. With a focus on hydrogen usage in transport and gas industries, Hycel aims to grow Australia's hydrogen economy and deliver clean and affordable energy solutions.
The establishment of Hycel is backed by $2 million in Federal Government funding, which was announced by Minister Tehan in December 2019. If fully funded, the Hycel Technology Hub would become a regional hub of hydrogen expertise, where hydrogen technologies are tested, manufactured, and demonstrated at scale, and technicians are trained for the hydrogen jobs of the future.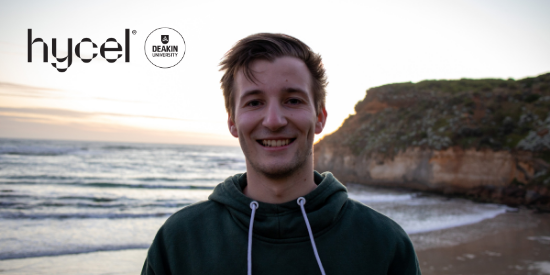 More like this
Media release
Enabling a sustainable world, Designing smarter technologies
---