Time to take the power of emoji beyond text messages: Deakin expert
Media release
17 October 2017
Emoji are leading a new generation of visual language tools that could be adopted for more than just social interactions, according to Deakin University digital media researcher Dr Adam Brown.
Emoji are more embedded in our daily communications than ever before with almost 3000 currently available and more on the way, with Apple set to release hundreds more with the release of its iOS 11.1 update.
Dr Brown, a senior lecturer with Deakin's School of Communication and Creative Arts, says that rather than being a catalyst for the demise of language, as some would have us believe, the use of emoji should be embraced.
"Some people have jumped to the dystopian perspective of saying the use of emoji is having a negative impact on language by causing issues with spelling and the ability to articulate ideas in coherent sentences," Dr Brown explained.
"However, there has always been a transformative nature to language. We use more than words to communicate such as the use of gestures and tone. It also wasn't that long ago in our history that correct spelling wasn't actually as big a deal as it is today. So the use of emoji is part of the normal evolution of language.
"Emoji language itself is also evolving with the shift to the age of the moving image. The conventionally understood emoji have been adapted to one or two second animated 'stickers' and in gifs, which are immensely evocative in their meaning and are sometimes being used in wordless conversations via instant message.
"While emoji, and their moving image counterparts, are convenient and fun they are above all meaningful and should not be dismissed for use in a range of communication situations, such as in the professional setting."
Dr Brown has experienced first-hand the value of taking the use of emoji beyond a social setting and into the classroom.
"In the professional setting for me as a teacher I see them as immensely useful in my interactions with students and cannot overstate their value as I use them a lot over Twitter through brief messages," he said.
"Given the ambiguous nature of the word it can be really useful to qualify the meaning with a smiley at times."
The power of emoji when communicating with students was highlighted with a recent learning exercise Dr Brown set his students that involved him providing feedback with smileys.
"I found the immense power of emoji came in handy with my teaching when I put together an optional mini-challenge that related to an upcoming assessment task," Dr Brown explained.
"When the students submitted their response to the challenge question I replied with a happy smiley if they got it right or a sad smiley if they got it wrong. Those who got a sad smiley could try again.
"I found the use of emoji was really interesting because even though the students were not getting marks for the challenge and it was completely non-mandatory, at least 80 per cent of the students participated.
"Their use of emoji in their responses was also interesting, particularly with the emoji expressions and gifs that I got back when students got it right. I found that to be really powerful because I could see their enthusiasm and excitement even though they didn't have to do it in a practical sense.
"Using emoji helped express something that you wouldn't see from students when they get an assignment comment back.
"There is a two way communication that social media allowed in this case where I was able to facilitate multidirectional feedback with the student and could see they were both really anxious and excited about the challenge. I could see that it worked because I could see their motivation being affected in part through the emoji we were using."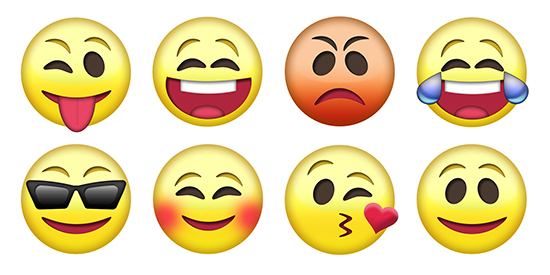 More like this
Media release
Faculty of Arts and Education, School of Communication and Creative Arts
---