Wellbeing Index finds Australians are happiest in retirement
Media release
06 September 2019
Retirees have a much higher sense of wellbeing compared to the general population, according to an annual survey that provides a barometer of Australians' satisfaction with their lives.
The latest Australian Unity Wellbeing Index survey, conducted by Deakin University, examines the influence of retirement on Australians' personal wellbeing, finding retirees reported their wellbeing at an average of more than 80 points - significantly higher than non-retirees at 76 points.
This was consistent across all survey categories except for 'health', which was lower and 'personal safety', which was ranked similarly to non-retirees.
Overall, results suggest that Australian retirees are generally feeling content and satisfied with their lives.
The report's author, Associate Professor Delyse Hutchinson from Deakin's School of Psychology, said while the survey doesn't examine the reasons for the responses, personal wellbeing appears to increase with age, with some of the happiest Australians aged 65 and over.
"It would seem that retirees' wellbeing is closely connected to their relationships and interactions with others," Associate Professor Hutchinson said.
"This positive connection with others would tend to offset their lower satisfaction with 'health', which declines as age-related ailments set in."
Associate Professor Hutchinson said that the survey findings identified factors that predict wellbeing in retirement and that may have the potential to offset the decrease in wellbeing.
"For those transitioning into retirement, promoting wellbeing through 'achieving in life', 'personal relationships' and 'personal safety' is likely to promote higher wellbeing in retirement," Associate Professor Hutchinson said.
"As individuals remain in retirement and continue to age, promoting wellbeing through 'health', 'personal safety' and 'community connectedness' becomes more critical.
The study also found retirees in regional areas report higher levels of overall life satisfaction compared to metropolitan areas, with them scoring higher on 'community connectedness', 'personal safety', and 'future security'.
"It appears that people in regional areas feel more connected to, and safer in, their local communities, which is in turn linked to improved life satisfaction," Associate Professor Hutchinson said.
The full report can be viewed at: http://www.acqol.com.au/publications#reports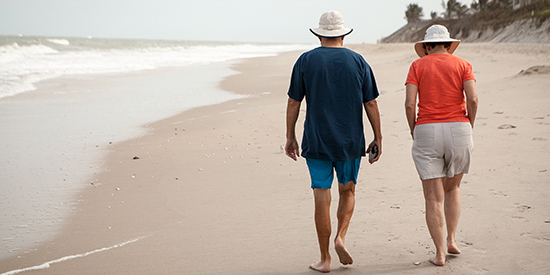 More like this
Media release
Faculty of Health, School of Psychology
Centre for Social and Early Emotional Development (SEED)
---
Related News
National survey to measure COVID-19 impacts on Australian families
Australia's COVID-19 social distancing and isolation measures are triggering dramatic lifestyle changes for families and individuals across the country. A new nation-wide online study by Deakin University is being launched today to measure the emotional and mental health impacts of these measures on Australian families during the pandemic, and to apply any findings that can increase the resilience of Australians today and in the future.
Boost for Deakin research empowering women and girls
Deakin's innovative inclusion program ALLPlay has received a boost thanks to MECCA Brands' MECCA M-Power initiative, which aims to empower women and girls around the world by championing education, independence and entrepreneurship.