Deakin researchers named finalists for 2020 Eureka Prizes
Media release
30 September 2020
Two researchers from Deakin University's School of Life and Environmental Sciences are finalists in this year's prestigious Australian Museum Eureka Prizes for their outstanding work on major research projects.
Associate Professor Daniel Ierodiaconou has been recognised for his work on the Victorian Coastal Monitoring Program (VCMP) and Associate Professor Euan Ritchie for work on the Cat Ecology, Impact and Management Team of the National Environmental Science Program (NESP) Threatened Species Recovery Hub (or Cat Team), the Australian Museum has announced.

The annual Eureka Prizes are often referred to as 'the Oscars of Australian science' and celebrate excellence in research and innovation, leadership, science engagement, and school science.

The VCMP, which was co-developed by Associate Professor Ierodiaconou, is a finalist in the Innovation in Citizen Science category.

Associate Professor Ierodiaconou explained that this world-first citizen science drone program empowers local communities to measure and predict how beaches respond to storms and sea level rise.

"You can only begin to see how beaches change, grow or disappear altogether by examining a coastline from above over an extended period of time," Associate Professor Ierodiaconou said.

"The program began in 2018 and we've currently got 14 groups of citizen scientists trained to undertake shoreline surveys on Victorian beaches using advanced drone technology.

"They really are our eyes and ears on the ground, collecting reliable data and monitoring the changing shape of beaches in their patch. Our citizen scientists have collected data that has enabled us to generate 3D constructions of beaches and examine impacts – such as coastal erosion and a changing wave climate – and the success of mitigation measures such as beach renourishment activities.

"Ultimately, these data are helping coastal managers and communities make informed decisions on how to manage our coasts."

Associate Professor Euan Ritchie is a co-Lead Researcher in the Cat Team, which is a finalist in the Applied Environmental Research category.

Formed in 2015, the Cat Team has embarked on Australia's most comprehensive study of cats and their impacts on native wildlife and brings together researchers from universities, government agencies, NGOs and Indigenous ranger groups across Australia.

Associate Professor Ritchie noted that Australia has the worst recent record of mammal
extinctions in the world, and overall the rates of species decline and extinction are showing no signs of slowing.

"We know that cats – both feral and pet – are a major reason why so many of our native animals are imperilled, particularly mammals," Associate Professor Ritchie said.

"Before this national work was undertaken, we didn't know how many cats Australia had, the numbers of animals cats are killing, and the full extent of effects cats have on wildlife and ecosystems, including which species are most at risk.

"Over the past five years, the Cat Team has carried out a huge amount of field and desktop-based research and we now know that the cat population fluctuates between 2.1 and 6.3 million and kills more than three billion Australian animals each year.

"Among 12 species most at risk and in need of protection are Gilbert's Potoroo (Critically
Endangered), Central Rock-rat (Critically Endangered), Eastern Quoll (Endangered), Western Barred Bandicoot (Endangered), Mala (Endangered on mainland Australia) and Eastern Bettong (Extinct on mainland, surviving in Tasmania).

"Our focus now is on developing and testing the most effective management strategies for mitigating the effects of cats on native wildlife."

The Australian Museum Eureka Prizes winners will be announced Tuesday 24 November 2020 via a live digital event with an interactive app.

Partners on the Victorian Coastal Monitoring Program include Deakin University, The University of Melbourne, Propeller Aerobotics, and the Department of Environment, Land, Water and Planning.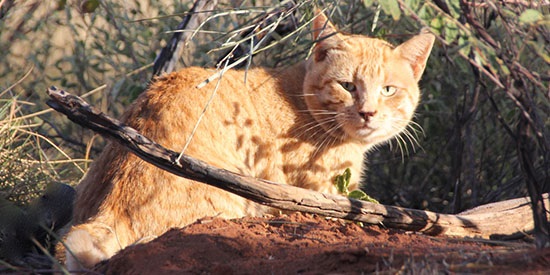 More like this
Media release
Faculty of Science Engineering and Built Environment, School of Life and Environmental Sciences