New alumni chapter for Deakin IT grads
Deakin news
09 October 2017
Deakin University's IT Alumni Chapter launched recently with an event in Melbourne's CBD.
Around 65 guests – alumni, students and committee members – enjoyed the evening, catching up on news and networking.
Head of Deakin's School of Information Technology Professor John Yearwood spoke at the event, giving guests an overview of current activities in the school.
'The launch of the IT Alumni Chapter was a special event giving Deakin IT alumni an opportunity to come together, reconnect, tell stories and think about their individual journeys,' Professor Yearwood said.
'It was a vibrant social occasion and it was great to meet and listen to what our alumni are doing and gratifying to hear they thought the chapter will provide valuable opportunities for networking and connecting on IT issues.'
Deakin IT graduate Christian Wernert, now a web developer at The Township, is a member of the alumni chapter committee.
'I sincerely believe that Deakin and its incredible community of staff and students has been instrumental in my progression to my current career position. This is why I'm always more than happy to give back whenever possible,' Mr Wernert said.
'The launch event was a shining example of this community, and it was exciting to see so many of us coming together to demonstrate our willingness to contribute to the alumni chapter.'
Together with Mr Wernert on the committee are alumni members Michael Monnik, Jessica Hoy and Justin Fench, and School of IT staff member Dr Elicia Lanham. The committee is intending to plan and roll out different activities for Deakin IT graduates for professional development, peer and industry networking opportunities, as well as purely recreational and social engagements.
Find out more about connecting with Deakin's Alumni Community or visit Deakin's IT alumni LinkedIn group.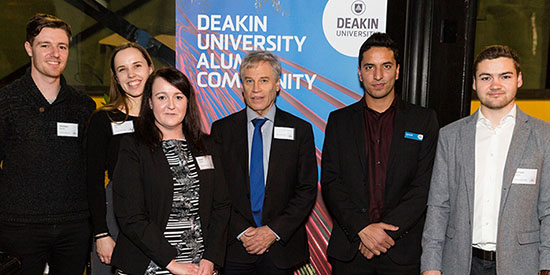 From left to right: Christian Wernert, Jessica Hoy, Dr Elicia Lanham, Prof. John Yearwood, Umair Sajjad (Deakin alumni team) and Michael Monnik at the launch of Deakin's IT Alumni Chapter.
---