Students engineer their way to robot design award
Deakin news
07 November 2019
With a robot that judges described as 'very innovative' and 'exquisitely made', a team of Deakin University engineering students won the Best Design award at the final of the Warman Design and Build Competition held in Sydney in October.
The Deakin team of Jordan Peters, Genevieve Zeiler, Marcus Decker and Vlad Postolache was awarded the Best Design award, as judged by members of the Engineers Australia National Committee on Engineering Design (NCED).
Dr Michael Pereira is the Course Director of the Bachelor of Mechanical Engineering (Honours) at Deakin. Dr Pereira coordinates Deakin's participation in the Warman Competition together with Benjamin Champion, Teaching Scholar in Mechatronics.
'The Warman Competition, which has been running for the past 32 years, is open to engineering students in their first or second year of study', Dr Pereira explains.

In the competition, which is organised by Engineers Australia, entrants have to solve an engineering problem facing the inhabitants of the fictional planet of Gondwana. The challenge for teams this year was to design and build an autonomous system that could transfer 20 spherical storage vessels (plastic balls 6.5 cm in diameter) from a rectangular storage 'ocean compound' to a separate and safer 'inland compound'.
'Each year, approximately 2000 students compete in the challenge at on-campus competitions held throughout Australia and the Asia Pacific region,' Dr Pereira says.

'Subsequently, the final in Sydney receives entries from each university's best team, so it's a great achievement for each student who simply participates in the National Competition.'
Dr Pereira says the Best Design award is an excellent result for the Deakin team, particularly in terms of the focus Deakin's School of Engineering has on project-oriented design-based learning (PODBL) and the excellent facilities provided by the University's Centre for Advanced Design in Engineering Training (CADET).
'During the competition event, the design judges commented publicly that it was a "very novel design", "very innovative" and that it was "exquisitely made",' Dr Pereira says. 'We are now recognised as consistently producing very well designed and fabricated robots, due to the advanced manufacturing and prototyping facilities available at Deakin.'
For Mr Champion, two aspects of the Deakin robot stood out.
'The Deakin students did a very good job making sure the design was simple yet efficient,' Mr Champion says. 'Using a printed circuit board to make the wiring robust and neat, along with the simple ball collection mechanism, were my favourite aspects of the robot.'
Dr Pereira also acknowledged the contribution of his School of Engineering colleagues to the team's success.
'I would like to thank all of the staff who have supported the team during the past several months and also during our SEM200 Machine Design undergraduate PODBL unit that is linked to this competition. Your continued support is an instrumental part of our success and is very much appreciated.'
Find out more about studying engineering at Deakin.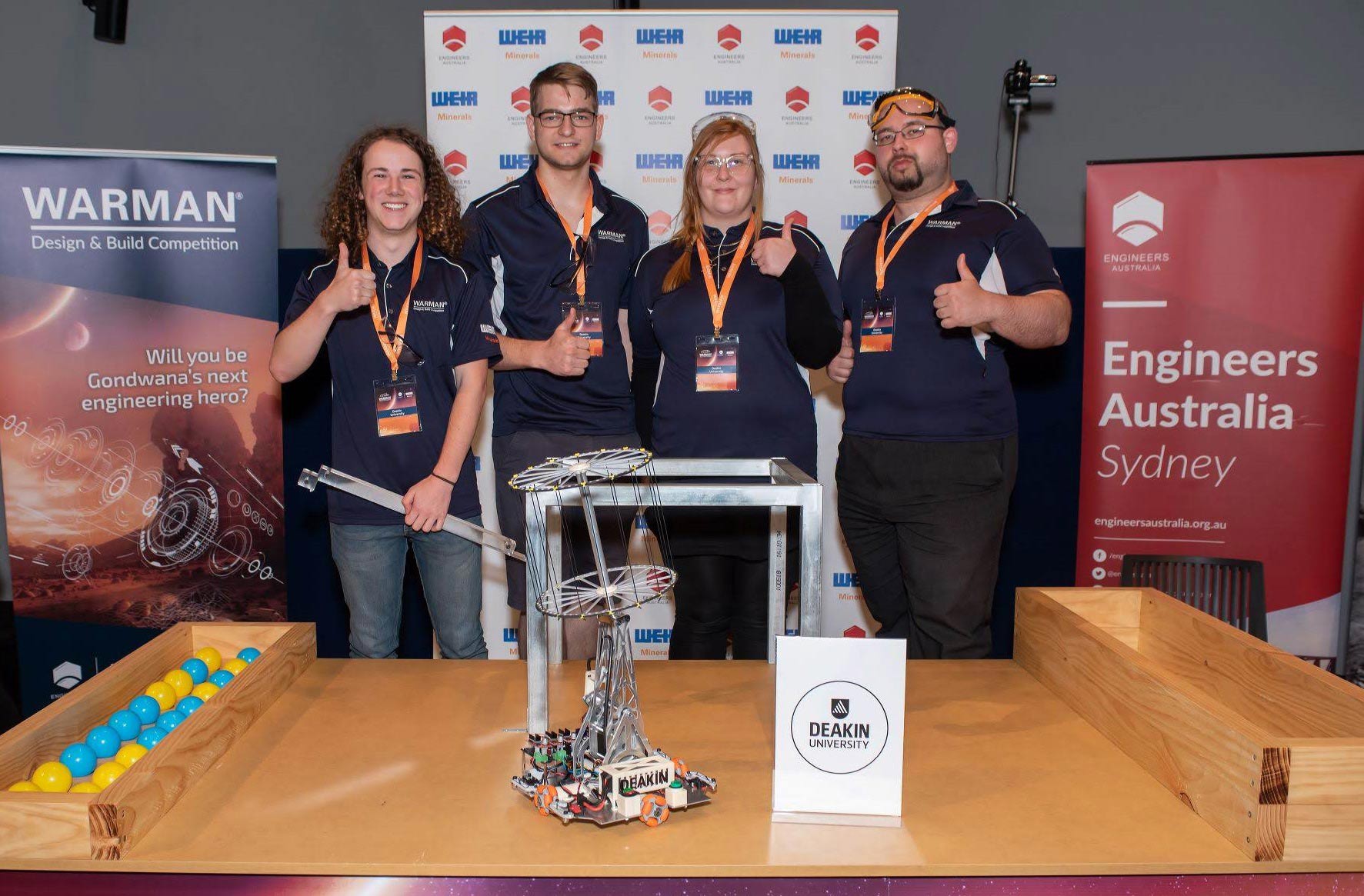 Deakin Warman Competition team members (left to right): Jordan Peters, Marcus Decker, Genevieve Zeiler and Vlad Postolache with their 'Best Design' award robot.
---