Students rise to the challenge of international startup program
Deakin news
31 October 2019
A group of Deakin University students tested their entrepreneurial skills and collaborated with fellow students from around the globe at this year's European Innovation Academy (EIA) in Turin, Italy.
Twenty-one Deakin students participated in EIA in July this year, with Dr Elicia Lanham from Deakin's School of Information Technology the academic program leader. The Deakin group included undergraduate and postgraduate students, both domestic and international, from the School of IT and Deakin Business School.
'What's really great about EIA is that it's a three-week entrepreneurial startup program. Students start with a problem and work in teams through a range of situations to end up with a solution at the end, a minimal viable product or prototype, while meeting students from around the world,' Dr Lanham explains.
'Teams are each made up of five people. There are no more than two people from the same university or same location on each team to ensure they get that global exposure. To get a different dynamic, members are from different discipline backgrounds – business, IT, design etc.
'The team members are all in the same situation – they're all on an even playing field, with everyone removed from their 'normal'. It's a great experience out of their comfort zone and to explore what they're capable of.'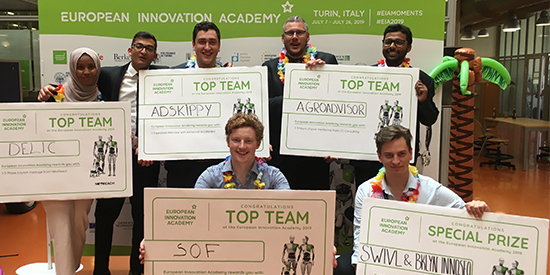 As well as working on their projects, Dr Lanham says students also had the opportunity to hear from a range of guest speakers including from startup companies, from Silicon Valley and Google, and from professionals such as IP lawyers.
This year four of the teams to make it to the EIA Italy Top Startup Teams list involved Deakin team members:
SOF (Save Our Friend) – Seth Croot
Agroadvisor – Shubham Srivastava and Steven Veltmeyer
AdSkippy – John Dufty and Keshav Singh
Delic - Ahmed El Haan
And one Deakin student was in a team that took out one of the Special Prizes – the Nixon Peabody IP Spark Award:
Descriptions of each project are on the Top Startup Teams listing on the EIA website.
While the EIA experience can be intense for students, Dr Lanham says it's a valuable one.
'I can't express the value for the students in terms of getting out of their comfort zone,' Dr Lanham says.
'It was great to see our students rally together. Even though they may have been on different teams, they had the Deakin camaraderie behind the scenes, and it was really great to see how they banded together and took the lead, representing Deakin in such a great way.'
'The EIA program is intense, a lot of hard work is required but you don't know what you're capable of until you're put in that situation.'
The 2020 EIA will be held in Portugal in July next year. Stay tuned for more details of Deakin's involvement or email us if you'd like to be kept up to date.
---