Student voyage of marine discovery
Deakin news
06 February 2018
Mapping the ocean floor and observing sea life were just two of the experiences Deakin University students Sam Wines and Danielle Harmshaw had as members of the inaugural CAPSTAN sea training voyage in November last year.
Twenty students representing 12 Australian universities were aboard the CSIRO research vessel Investigator for the voyage across the Great Australian Bight from Fremantle in Western Australia to Hobart in Tasmania.

Standing for the Collaborative Australian Postgraduate Sea Training Alliance Network, the CAPSTAN program aims to 'transform marine science education through the development of a national approach to teaching and learning in the marine realm'. The program is supported by the Marine National Facility and governed by a network of leading industry, government and university partners including Deakin.

Mr Wines is doing honours at Deakin Warrnambool with the Deakin Marine Mapping Group this year after completing his Bachelor of Environmental Science (Marine Biology). He says the adventure was like a dream come true.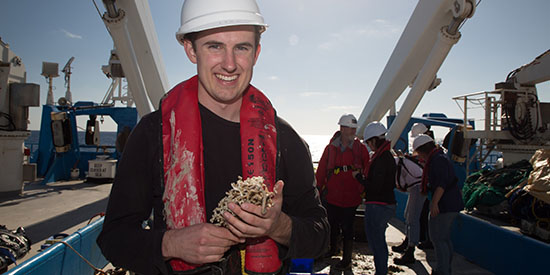 Sam Wines - photo: Carlie Devine / Marine National Facility
'I had no idea I'd have this sort of experience when I came to Warrnambool,' he says. 'I remember being in Hobart in my first year and seeing the Investigator docked in the harbour. I thought it would be so cool to work on that so to be on the other side was pretty mind-blowing.'

He says the program aimed to introduce students to a variety of research experiences.

'Water sampling, mapping the ocean floor, mammal and seabird observations, plankton nets, and deploying Argo floats as part of a worldwide data initiative led by Australia's Integrated Marine Observing System were some of the activities.

'I loved seafloor mapping in the Bremer Canyon region in the Great Australian Bight where we found a canyon and seamount that hadn't been mapped before.'

For Ms Harmshaw, who is completing her Bachelor of Environmental Science (Wildlife and Conservation Biology), the animals they saw on the voyage were a highlight.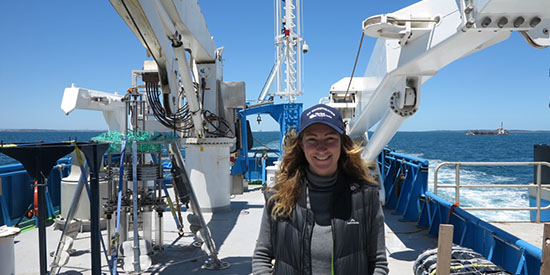 Danielle Harmshaw - photo: courtesy CAPSTAN Voyage Blogs
'We saw countless amounts of incredible sea life. From a pod of over 80 long-finned pilot whales to soaring albatross in the sky,' she says.

'The experience has now given me the confidence to pursue positions at sea in the marine science field, knowing that I have what it takes to spend prolonged time at sea as well as pursue professional endeavours.'

Daniel Ierodiaconou is Associate Professor of Marine Science in Deakin's School of Life and Environmental Sciences and deputy node leader of the South East Australia Integrated Marine Observing System. He says this type of program can be a game changer for students.

'What an amazing experience for our students to be able to participate in such a program which is open to students across the sciences at Deakin,' Associate Professor Ierodiaconou says.

'There is no better way to learn than be immersed in a scientific voyage like this opportunity provided. Such an experience can often be an enlightening moment and game change in terms of trajectory for aspiring scientists.'

The next CAPSTAN voyage is scheduled for April 2019.

Read more about the voyage on the CAPSTAN Voyage Blogs, including posts by Mr Wines and Ms Harmshaw.
---