Technology brings students an online underwater experience
Deakin news
19 June 2020
Moving a new marine science unit to online delivery posed an interesting challenge for Deakin University's marine team – but an underwater drone nicknamed Pickle has helped provide an answer.
Dr Prue Francis, lecturer in Deakin's School of Life and Environmental Sciences, says that under normal circumstances Deakin's new marine environments unit would incorporate the opportunity for students to snorkel a local marine environment to assess the biodiversity and to gain essential marine science skills. But when learning activities at Deakin switched to online delivery because of COVID-19, a new approach was needed.
Enter the ingenuity of Dr Francis and her fellow Deakin marine team colleagues, technical officers James Redmond and Lisa Grubb, who were still determined to deliver a snorkel experience to students – and do so in a creative and engaging way.
'Before lockdown, the three of us spent a nice sunny morning down at St Leonards Pier, a popular snorkel and scuba location around Port Phillip Bay,' Dr Francis says.
'We utilised a FIFISH Underwater Drone - affectionately named 'Pickle' by James because it spends too much time in the brine - to produce and record footage of the team snorkelling the Pier.'
'We're always keen to jump in the ocean and record footage; however, this time around we had to complete this task while adhering to the 1.5 metre social distancing regulations – although a pot-bellied seahorse didn't quite get the message and came way too close to Pickle!'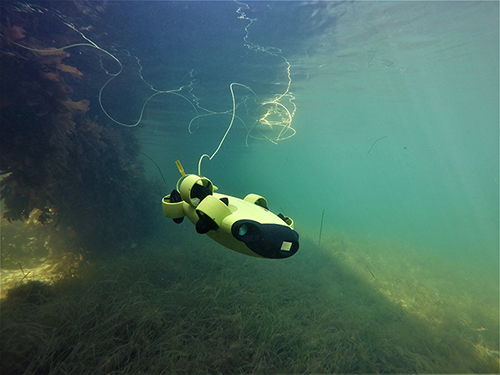 Pic: 'Pickle' the underwater drone
The edited video was uploaded for students to engage with during their online learning of the marine environments unit. Judging by the feedback from three students – Rosie, Sunny and Kim – it has been a great success.
'Nothing can top getting in the water for real but this was the next best thing,' Rosie says.
'Being creative and still delivering us with a virtual dive/snorkel is a reflection of how committed Deakin is to still delivering the learning outcomes promised.'
For Sunny, the virtual fieldtrip presentation in marine environments was 'an innovative and engaging way to present a marine ecosystem to our cohort that didn't have the chance to see it in person'.
'It is clear the team put a lot of effort into this activity and their dedication shows,' Sunny says.
Kim was impressed with how the team, with their state-of-the-art technologies and knowledge, have been able to 'showcase the underwater world in an engaging way'.
'Capturing the essence of what it is like to be underwater in the marine environment with organisms and terrain that we have studied and seeing seahorses in their natural habitat has definitely been a highlight,' Kim says.
Dr Francis says the success of the video has the team thinking of other projects.
This is the first time this particular underwater drone has been used within the delivery of the marine courses at Deakin.
'The team are now working on ways to deliver similar fieldtrips using a live, virtual platform using HDMI and virtual reality technology to not only our Deakin students, but for the greater community who would like to see what lives underwater!'
Discover more about studying marine at Deakin.
---