Our Climate Ready Campus vision
Deakin's Climate Ready Campus is our vision for the Geelong Waurn Ponds Campus. We aim to establish the campus as a living laboratory for sustainable development. We are working with students, academics, researchers and key partners to deliver projects, perform research and develop innovations to mitigate our impact on climate change. Deakin is committed to the Climate Ready Campus vision across our four campuses. From recycling to eco-friendly transportation, our campuses are designed to help us meet our sustainability commitments.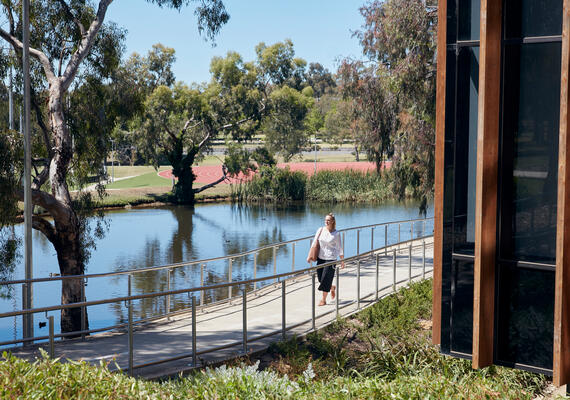 Creating a Climate Ready Campus
Learn more about our Climate Ready Campus, an integrated systems approach designed to mitigate our environmental impact and respond to climate hazards.
Travel and transport
We're taking action to increase sustainable modes of transport by enhancing public transport, ride-share and active transport options. By 2030, most Deakin staff and students will use sustainable transport options to and between campuses, such as carpooling, walking or cycling. Find out about sustainable ways to get to Deakin.
Get to Deakin, sustainably
Reduce your impact on the planet by walking, cycling or taking public transport to Deakin. Choosing one of these options helps to reduce your emissions and contribute to a sustainable university.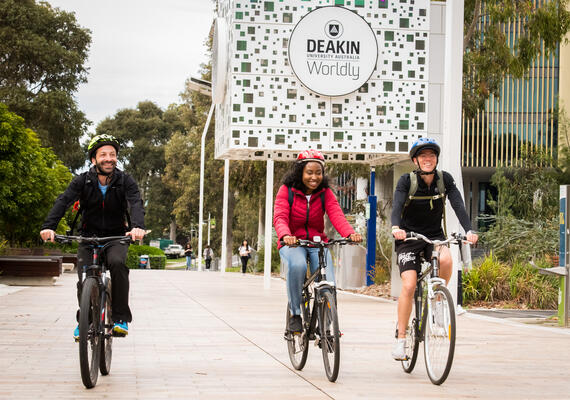 Let's keep Earth wonderful
At Deakin, we're committed to building a sustainable, wonderful world through innovative research. Our aim is to become carbon neutral by 2025.
Energy and emissions: we're going carbon neutral by 2025
We're committed to becoming carbon neutral by 2025. CN2025 is Deakin's program to enable the University to meet its energy and emissions commitments. Central to this commitment is addressing, not only our energy-based emissions, but also emissions throughout our value chain. To address these emissions, we'll reduce our energy consumption on campus, use 100% renewable electricity and expand our program of offsetting.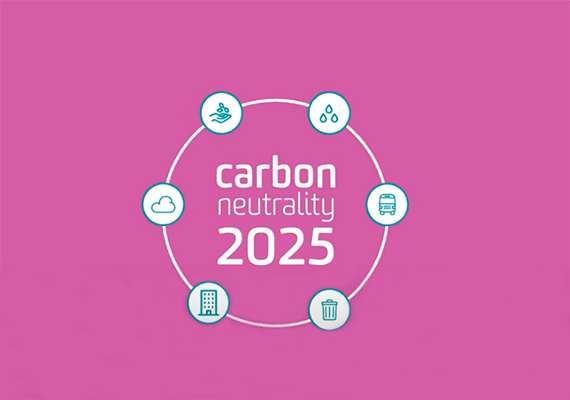 Our carbon neutral commitment
It will take time and effort but the CN2025 program will build the foundations for a more sustainable University for many years into the future. Check it out at the 6:16 minute mark in this video.
Powering our campus with onsite, solar generated electricity
Developed in partnership with AusNet Services and Mondo Power, the 7.5-megawatt renewable energy microgrid at Geelong Waurn Ponds Campus was installed in 2021 and has been providing more than 30% of the campus' electricity needs. From 2025 onwards, it will also allow Deakin to avoid up to 12,000 tonnes of CO2-equivalent emissions per annum. The microgrid supports the education of future energy professionals and builds our research capacity.
Helping Australia to decarbonise electricity
By partnering with likeminded organisations as part of the Melbourne Renewable Energy Project 2 buying group, Deakin is contributing to electricity decarbonisation by supporting infrastructure development and the transition to a reliable clean energy future. This is only the first step. As we become carbon neutral, Deakin will continue our contribution to electricity decarbonisation by achieving 100% renewable electricity by 2025.
Water and waste management
We have a significant responsibility to manage our own operational sustainability impacts. Managing water and reducing our waste output is integral to creating a Climate Ready Campus.
Water efficiency
We want to increase our water efficiency across our campuses and reduce the amount of drinkable water we use for services. We have 5-star water-efficient buildings with fixtures and fittings, and rainwater harvesting at two of our campuses. Our integrated water management plan for our Geelong Waurn Ponds Campus focuses on the best-practice management for water sources, stormwater and drainage, natural waterways and the social and economic values of water.
Zero waste
We want to be zero waste to landfill by 2030. We aim to recycle everything at Deakin – from batteries, mobile phones and tablets to cartridges, paper and cardboard. Our e-waste is diverted from landfill and collected by GDP Industries, an Australian Disability Enterprise and not-for-profit, to be reused or disassembled for resource recovery. Since introducing composting on campus in 2018, we've diverted 128 tonnes of food from landfill bins.
Procurement and supply
The goods and services Deakin purchases, and the process to procure them, significantly impacts environmental, social and economic sustainability. We support suppliers who are socially responsible and adopt ethical practices. We're on target for our suppliers to meet our 2025 sustainable procurement principles, plus by 2030, our supply chain will have a measurable positive impact on the United Nations SDGs.
Natural environment
We care for a diverse range of animal and plant species on 450 hectares of land across our four campuses. We are committed to establishing biodiversity corridors by 2030, allowing wildlife to thrive on campus.
Our strategies focus on adapting to climate change, increasing resilience and enhancing biodiversity value and knowledge. For example, our tree management software Arboplan helps us perform risk assessments and preserve trees that may otherwise have been destroyed or damaged.
Built environment
Every new building at Deakin will offset its own sustainability impact by 2030. Our buildings are constructed using best practice sustainable principles to:
minimise water and energy consumption and emissions, and enhance efficiency
utilise circular economy waste management and avoid landfill principles
use sustainably sourced material with low embodied energy
minimise disruption to natural ecosystems
enhance or restore the natural environment
maximise the health, wellbeing and safety of staff, students and the community.
Get in touch with us to find out more about Deakin's sustainability commitments.