How to enrol
Deakin intensive units are open to both currently enrolled Deakin students and professionals who wish to study a single (non-award) unit.
Current Deakin students
Enrol in the intensive unit of your choice using the standard enrolment process. You'll need to have completed any prerequisites and the unit must meet course completion rules. Check the handbook for details.
Once enrolled, you'll be contacted by the intensives team with further information.
Single (non-award) students
Intensive units offered are available as single (non-award) units of study. You'll need to apply for a single unit of study, and places in intensive units may be subject to limits. When considering intensive units please note the teaching commencement dates, which may differ to usual trimester dates.
Normally the teaching period for an intensive unit commences 6–7 weeks prior to the actual intensive date. Successful students will be notified by email.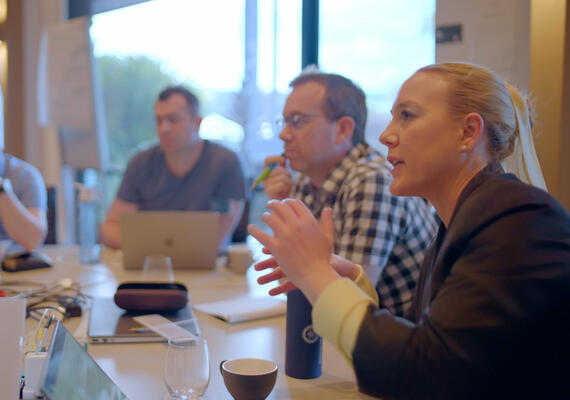 The intensives experience
Intensive units are a key element of our MBA, helping our students build connection and share insight.
Fees
Conference fees for intensive units are in addition to the tuition fee and vary depending on the type of accommodation chosen. All prices include GST:
| | Single room | Twin share | Day delegate |
| --- | --- | --- | --- |
| Non-refundable registration fee | $275 | $275 | $275 |
| Conference package | $2118 | $1815 | $1320 |
| Total | $2393 | $2090 | $1595 |
Notes:
Single accommodation is limited.
Day rate is not recommended for participants outside the Geelong area.
All fees are charged in Australian dollars (AUD).
The following items are included in the packages:
accommodation
conference facilities
full buffet breakfast
morning tea
working lunch
afternoon tea
two-course dinner (three course one evening)
Beverages served with dinner (selected wine, selected beer, juice)
Wi-fi internet
free parking.
Students will receive separate invoices for the tuition fee and the intensive conference fees.
Enrolment into the unit does not guarantee you a place unless the deposit is paid. Students successful in gaining a place in an intensive unit will be notified by email.
Intensive units may not proceed where there are insufficient numbers.
Deposit
A non-refundable deposit of $275 inclusive of GST is required to secure enrolment into each intensive unit. Should payment not be made by the requested date, your place in the intensive may not be secured.
Students successful in gaining a place in an intensive unit will be notified by email.
Please note many intensive units reach maximum capacity very quickly, with a wait list for attendance.
In the event that insufficient students are not enrolled in a unit to enable the intensive to run, students will be refunded their deposit.
The venue
Intensives are conducted at the Waurn Ponds Estate, a world-class, purpose-built conference centre within the grounds of Deakin's Geelong Waurn Ponds Campus.
The intensives provide an excellent environment and opportunity to build your teamwork, communication, leadership, and interpersonal skills – the very skills that are in high employer demand. By enhancing your postgraduate studies in this interactive, face-to-face intensive mode you'll achieve a valuable point of difference in the job market.
Travel
Booking travel
Students are advised not to make any travel arrangements until confirmation is received.