Commerce
Discipline
Commerce provides a solid foundation in business studies. Deakin offers a variety of majors, from accounting through to marketing and international trade. If you're after a career in business, a degree in commerce could be your first smart business decision.
Career opportunities
Depending on the subjects you choose, typical graduate roles may include:
credit analyst
data analyst
financial broker
financial manager
fund manager
international banking
portfolio manager
public accountant
risk management
securities sales agent
stockbroker
treasurer.
Undergraduate
Undergraduate (your first degree)
An undergraduate degree is generally completed between two to four years, depending on the pattern of study and any recognition of prior learning you may have. Associate degrees, bachelor and bachelor with honours are all undergraduate degrees.
Postgraduate
Postgraduate (further study)
A postgraduate qualification can be undertaken by students who have already completed an undergraduate degree or possess significant, demonstrable work experience. Postgraduate courses include graduate certificates, graduate diplomas, master's and PhDs, as well as specialist programs for industry professionals.
Research
Higher Degrees by Research (supervised research)
Research degrees are research based master's or PhD programs that focus on a single area of expertise. They provide students the opportunity to carry out highly specialised research under expert supervision.
Non-award
Other/non-award courses
Non-award courses are generally single units of study that don't add up to a university qualification. They're a great way to explore an area of study before committing to a full degree, and can often be used as credit towards a degree course. Short courses and stand-alone study abroad programs also fall under this category.
I was offered a job without even applying due to the contacts and reputation I had built through these [internship] opportunities.
COURTNEY MATHEW
BACHELOR OF COMMERCE (MAJORING IN MARKETING)
Unique accreditation
Deakin's Bachelor of Commerce is the only Australian university internationally recognised and EPAS accredited by the European Foundation for Management Development (EFMD). EPAS is an international quality benchmark for business programs worldwide.
Research with us
Bring real, practical value to your business or place of employment by furthering your knowledge with higher qualifications through postgraduate study.
Study overseas and earn a dual degree
The Deakin Business School partners with international universities to offer two masters degrees where you study a component overseas. You'll learn at world-class business schools and have the chance to explore another country and culture.
We're here to help
If you're dreaming of an exciting and rewarding career in commerce, we'll help get you there.
Turning an internship in commerce into an exciting career
Hear from Matthew and his manager David about how an internship undertaken while studying the Bachelor of Commerce turned into an ongoing position.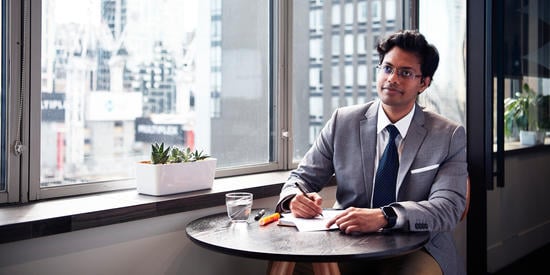 Choosing between business and commerce? Here's what you need to know
What's the difference between a commerce and a business degree, and how can you work out which one is right for you?
International accreditation
Deakin's Bachelor of Commerce is the only Australian university course internationally recognised and European Programme Accreditation System (EPAS) accredited by the European Foundation for Management Development (EFMD). EPAS is an international quality benchmark for business programs worldwide.
Deakin Business School (DBS) is accredited by the Association to Advance Collegiate Schools of Business (AACSB). Only five per cent of business programs worldwide are AACSB accredited and DBS is one of only three in Victoria.
Professional accreditation
Depending on units undertaken, commerce graduates are eligible to apply for admission to the following programs:
Association of Chartered Certified Accountants
Australian Computer Society
Australian Marketing Institute
CPA Australia
Institute of Public Accountants
Economics Society of Australia.
Welcome to the Bachelor of Commerce
Thinking of embarking on a journey with the Bachelor of Commerce? Course director Kerrie, student ambassador Mark and alumni Sasha answer a few questions that might be on your mind.
Deakin Beyond – Bruce Kaider
Master of Commerce alumni and Managing Director of One Management Group, Bruce Kaider, reflects on his time at Deakin and how it's helped him to achieve his personal and professional goals.
Browse other disciplines within business
Choose an area that you're interested in and learn how Deakin's extensive range of study options and experiences can help turn your dreams into reality.
Still haven't found what you are looking for?