While it's fair to say that all students graduating from the same degree will have received a similar education, it is still possible for students give themselves a leg up when it comes to career options after graduation.
When Daniel Telling completed the Bachelor of Property and Real Estate at Deakin he was lucky to have an exceptional opportunity land in his lap. But if you look at the facts, it wasn't really luck.
Daniel originally applied for the graduate program at Colliers International but the combination of his degree and extra-curricular experience made him competitive for a more senior role. So how did Daniel give himself that edge?
Using personal research to demonstrate passion
One of the key steps Daniel took was using his personal time to undertake extensive research into the industry he was hoping to enter.
'Throughout my studies I developed a passion for the financial markets,' he says. 'I guess within that I understood how some of the publicly-listed real estate investment trusts were performing and I understood that a lot of them were highly leveraged to the industrial market, which had been performing really well.'
This allowed Daniel to enter the interviews with some valuable knowledge. 'I was in the interview process for a graduate program with Colliers International and I really emphasised that I wanted to be in the industrial space given how it was performing in the market,' he says. 'It looked really strong from a fundamental perspective, particularly through the growth of e-commerce and third-party logistics, as opposed to where the residential market was positioned at the time – and I really wanted to position myself where I saw the immediate growth.'
Daniel's approach demonstrated to the recruiters that he was serious about his career. Instead of a graduate position, he was offered a role as an executive in the industrial team where he specialises in major investment sales.
'I think the way that I conveyed my opinion of the market at the time coupled with my extracurricular experiences through the university at Deakin suited the profile of the role and I was able to move straight in to the role in November after I finished my exams,' he says.
Looking for leadership opportunities
When Daniel was studying he was always on the lookout for volunteer positions and personal development opportunities within the university.
'Being a country kid from south eastern Victoria, I lived on campus at Deakin for two years after completing VCE and in my second year I was a residential leader supporting other students living on campus,' he says.
This meant organising a lot of events and undertaking personal and professional development courses and accredited trainings that were provided by Deakin. 'The role was really valuable for me,' Daniel says. 'It meant stepping out of my comfort zone at times but more generally I was just developing myself as a leader.'
Daniel diversified this experience by taking on other roles. 'I joined the Property and Real Estate Student Society as a committee member and then moved into the role of vice president of the student society in my last year,' he says.
'I was able to work closely with the Faculty of Business and Law and the Deakin University Student Association to support the growth of the student society and look for additional funding opportunities within the university framework. That was really important experience engaging with the university and industry stakeholders, particularly through professional networking events.'
In his final year, Daniel was a participant in the Whitehorse Tertiary Business Skills Program, undertaking a three-month internship with Quest Mont Albert, while also working as a student ambassador for the Faculty of Business and Law. 'The internship program, mentoring and practical experiences were extremely valuable for my professional development and upon completion I was feeling really confident and prepared to move into a full-time role.'
From his current position in the workforce, Daniel sees the value of his experience even more clearly: 'I am seeing how competitive the industry is and I'm understanding that if you want to arrive at a firm like Colliers International, where I am now, it's really important that you have the experience and you are able to showcase what you have done.'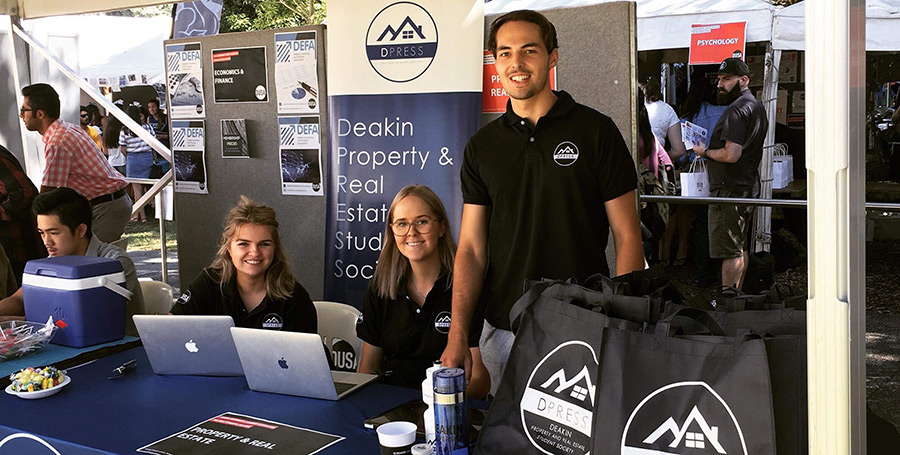 Daniel at Deakin OWeek 2018 representing the Property and Real Estate Student Society
Exploring the diverse options in property careers
While Daniel has been drawn to the prospects in the industrial sector, he says the market is constantly changing and there are opportunities in other areas. 'It really depends on where the individual sees themselves: whether they want to be a part of a large commercial real estate firm with a global presence or perhaps they want a career in a more boutique residential or commercial real estate company.'
Deakin property and real estate graduates find roles in a diverse range of areas including property valuation divisions and valuation firms, property development, sustainability consultancy, property management, market research analysis and property advising.
Regardless of the area of passion, Daniel says that Deakin's online platform makes study convenient and accessible for all students. 'In my course there were students who were working as property managers or real estate agents who would be tuning in to our lectures and our group assignments from various states,' he says. 'Being able to do that is really beneficial for those individuals whose career growth prospects may be limited without a university degree.'
Daniel encourages all students to make the most of the resources that are available through the university. 'It's really crucial to separate yourself from everyone else that you sit with in the lecture theatre with, as these are ultimately a very small portion of the individuals that will be attempting to differentiate themselves in the recruitment process,' he says. 'I think Deakin University provides a really strong platform for this through resources such as DeakinTALENT, it's just up to the individual to put in the work.'
Think you have what it takes to forge a great career in property and real estate? Learn more about the Bachelor of Property and Real Estate.