Studying criminology fast-tracks you towards an array of exciting careers in prisons, courts, the police force, cyber-crime, research and policy. Throughout Deakin's Bachelor of Criminology, students work on industry-relevant projects and attend guest lectures from experts in industry.
Offering the most established criminology course in Australia, Deakin understands the importance of industry connections and real-world criminology work experience. Our students understand this too and many are keen to get a head start in their chosen profession through work experience.
We spoke to three students who undertook a criminology work placement as a part of their course and heard how the experience has set them on the path for their future career.
An eye-opening experience
Paul Symons found that much of his learning clicked into place when he undertook a placement at the Community Correctional Services in Bendigo. 'There was so much overlap between the placement and what I'd studied in the degree,' he says. 'You learn a lot from textbooks throughout university so having real world application was great.'
Paul's role during his placement was to assist with the rehabilitation of criminals and help to integrate them back into society. 'I learned the practices of the case manager. When someone breaks the law and goes to court they either get a fine, go to jail or get put on a community corrections order and they are assigned a case manager. I was involved in linking people up with the appropriate support through things like mental health, drug and alcohol rehabilitation services,' Paul explains.
'It was both eye-opening and rewarding. I met some people towards the end of their corrections order and told me how they'd addressed their areas of concern and got benefit from the order. They had improved their relationships with their families and I felt like I had done something good for the community.'
Getting an insider view into crime gave Paul a sense of perspective. 'I hadn't realised how much crime was being committed,' he says. 'I definitely felt that through the role of case manager, I had the capacity to make an impact to the level of safety within the community. This work is actually making the community a better place.'
Paul found that the placement opened doors for a job in the future. 'I'm definitely interested in this field of work as a career and it gave me reassurance that there are positions out there for people with my skillset. After doing the placement you are shortlisted for their graduate program so I'm hoping to do that for couple of years and then later go back to do some more study.'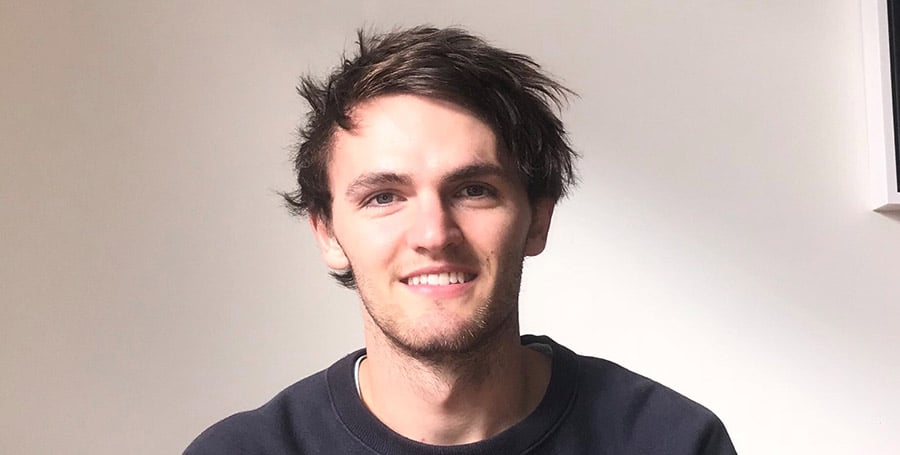 Paul Symons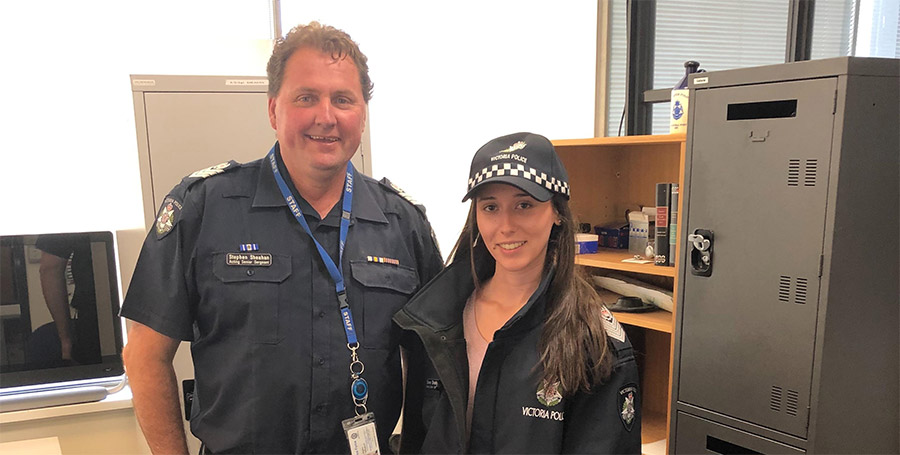 Olga Chatzigiannis
A change in direction
After a lifelong plan to join the police force, undertaking a placement with Victoria Police was the obvious choice for Olga Chatzigiannis. 'On placement I was mainly observing police work. I moved around with different officers and departments, mainly observing. I helped with a couple of witness reports where the officer interviewed the witness and took notes and I entered it into the system,' she says.
Having this inside view of policing was life-changing for Olga in ways that she didn't expect. 'I actually thought it would be completely different,' she says. 'It was my dream since I was a little girl to join the police force but during my placement I realised that policing is not the right career for me. We were in the storage room with guns and other equipment and after some discussions with the officers I realised that I'm not the right person to use force on others.'
While this discovery was upsetting at first, the placement opened new doors for Olga. 'If I didn't have this opportunity I would have pursued a career that I didn't like,' she says. 'I'm still interested in the idea of being an unsworn member of Victoria Police and working with storage of property, guns, drugs and evidence for court. I'm also very keen to work in offender rehabilitation, with a career in Child Protection as my back-up.'
The confidence to move forward
Chloe Lee did her placement at Community Correctional Services in Cranbourne and had an amazing experience. 'I had a great time and I learned a lot,' Chloe says. 'I had found the correction industry hard to research online so to get first-hand experience was awesome.'
Chloe enjoyed being given independent work which helped her get a feel for the job. 'Sometimes I would have notes, emails and referrals to write. I think the thing that surprised me most was how enjoyable it could be. Everyone was so supportive and organised and I was surprised by how laid-back I felt.'
The placement gave Chloe the career direction she was looking for: 'It really made me clear that this is something that I want to do. I got to work with a case manager and go to offender appointments, home visits, interviews and to court.'
Chloe wasted no time preparing for when she completes her degree at the end of the year. 'As soon as I finished my placement I started applying for case manager jobs,' she says. 'I had met a few young people in the industry who had done the same placement as me and that helped me feel like I could get a job there too.'
Ready for an extraordinary career
All three students say they found the workplace placement to be integral to clarifying their career plans. Olga says she thinks all criminology students should pursue work experience: 'You get opportunity to build your skills and knowledge and gain an insight into the industry that you are interested in so you can decide from there whether it is the right career for you.'
Chloe agrees. 'I think honestly if I didn't do the internship I wouldn't have known what I wanted to do because criminology can be so broad,' she says. 'I learned about jobs in the industry that I had never even heard of.'
Paul says that what initially felt overwhelming now feels like the highlight of the degree. 'It's a broad degree and that can feel a bit daunting at first but the best part is there are so many different opportunities within criminology so you're not just pigeon-holed into one job at the end of it.'
Excited about a career in this field? Find out more about Deakin's Bachelor of Criminology.