Career opportunities
Writers have never been more in demand. Upon completion of your studies, you could find a career in roles such as:
broadcast journalist
commissioning editor
editor
magazine journalist
newspaper journalist
press photographer
press sub-editor
publishing copy-editor/proofreader
writer.
Undergraduate
Undergraduate (your first degree)
An undergraduate degree is generally completed between two to four years, depending on the pattern of study and any recognition of prior learning you may have. Associate degrees, bachelor and bachelor with honours are all undergraduate degrees.
Postgraduate
Postgraduate (further study)
A postgraduate qualification can be undertaken by students who have already completed an undergraduate degree or possess significant, demonstrable work experience. Postgraduate courses include graduate certificates, graduate diplomas, master's and PhDs, as well as specialist programs for industry professionals.
Research
Higher Degrees by Research (supervised research)
Research degrees are research based master's or PhD programs that focus on a single area of expertise. They provide students the opportunity to carry out highly specialised research under expert supervision.
Deakin Webinar Series: Your career in writing and literature
Wednesday 5 June 2019 at 5pm AEST
If you love writing and literature, and excel at putting your thoughts on a page, a career in writing could be for you.
Discover what it takes to be a professional writer, and learn how you can make a career out of your passion.
Leaders of the pack
Our staff have many years of combined industry experience, and are leaders in their research fields – so you'll be learning from true experts.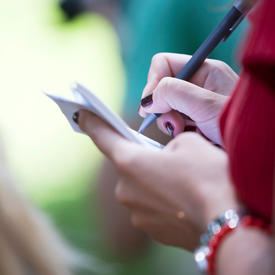 Research with us
Got an idea that could burn a hole in the page? Then take on a higher degree by research and take your insight to the next level.
Work experience opportunities
As a student of professional and creative writing, you can gain valuable work experience within an Australian company through our work placement program. This will give you the opportunity to broaden your skills, experiences and networks before graduation.
It's possible to undertake work placements at magazine and book publishing houses, as well as within broadcast and print media.
Our community
Find out what's going on in the creative arts at Deakin.
Browse other disciplines within media, communication and creative arts
Choose an area that you're interested in and learn how Deakin's extensive range of study options and experiences can help turn your dreams into reality.
Still haven't found what you are looking for?