ALW734 - Script Writing
| | |
| --- | --- |
| Year: | 2020 unit information |
| Enrolment modes: | Trimester 2: Burwood (Melbourne), Cloud (online) |
| Credit point(s): | 1 |
| EFTSL value: | 0.125 |
| Prerequisite: | Nil |
| Corequisite: | Nil |
| Incompatible with: | ALW603, ALW634 |
| Study commitment | Students will on average spend 150 hours over the teaching period undertaking the teaching, learning and assessment activities for this unit. |
| Scheduled learning activities - campus | 1 x 2-hour seminar per week |
| Scheduled learning activities - cloud (online) | Online independent and collaborative learning activities including 1 x 2-hour seminar equivalent |
Content
This unit teaches the basic principles and techniques of scriptwriting through a combination of historical, theoretical and practical approaches. Discussion of classical texts on dramatic production such as Aristotle's Poetics paves the way for an exploration of modern scriptwriting methodologies.
The unit covers scriptwriting elements including story, plot, structure, suspense, character, dialogue and setting, while emphasizing collaborative learning and the benefits of intensive workshopping. The role of the scriptwriter as an embedded participant within a larger production and industry context is also explored, coupled with advice on career advancement strategies for scriptwriters.
A premise of the unit is that the basic principles and techniques of scriptwriting are consistent across all scriptwriting genres. Upon mastering these fundamentals, students will advance their knowledge by completing a script for their choice of screen, stage or sound. Other scriptwriting projects for assessment may also be permitted with the agreement of the unit chair.
Unit Fee Information
Click on the fee link below which describes you:
How to apply
You can apply online for this single unit via the Deakin Applicant Portal. Enter the unit code above and follow the steps to submit your application online. Once submitted, we'll be in contact via email to confirm your place.
You can apply for multiple units in one trimester in a single application or to study multiple units over subsequent trimesters, you'll need to submit a separate application for each study period.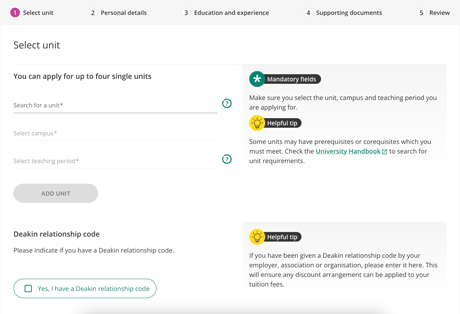 Talk to a Deakin adviser about studying at Deakin today